Get to know Lonely Lingerie, the brand that was designing inclusive bras before it was cool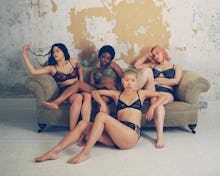 Before Savage x Fenty launched with an inclusive size range and a campaign showing women of different sizes and shapes, and well before brands like Aerie made headlines when they stopped photoshopping its models, Lonely was doing it all.
The New Zealand label, which is most widely known for its lingerie, has long used the talents of a diverse set of non-models for its campaigns, casting everyone from cancer patients to new moms to women who are terminally ill, and has given them a platform to tell their own stories. Since it began producing lingerie campaigns in 2009, it's vowed to not digitally augmented any of its models, which range in age and size and skin tone.
Though these practices are slowly becoming normalized within brands now, when Lonely's first lingerie pieces launched, that was far from the case.
"The lingerie industry that we encountered was quite confounding in its lack of diversity, and its depiction of women with an emphasis on push-up bras, highly sexualized imagery and airbrushed models," Helene Morris, the co-founder of Lonely, said in an interview. "These images ran counter to our philosophy as a company and we quickly realized that by choosing to go down a different route, we could really initiate some positive change in the industry. Although maybe not as big an issue as equal pay, we want, in our small way, to make a difference in the lives of women in this world."
They wanted to set a new standard within the lingerie industry of what a lingerie campaign could actually look like, ultimately for the betterment of everyone. "Producing imagery that gives our daughters confidence, not insecurities, not being greedy as a company and as individuals — all these things are so important to us and to making the world a better place to live in," Morris said.
What helped this mission along were Lonely's fans. In the beginning, Lonely did use actual models to model its products, but after seeing the response it got from one single campaign that cast non-models alongside professional models, it knew it had to change. And so the Lonely Girls Project, which highlights the non-models now cast in Lonely's campaigns, was born.
"Lonely Girls is now such a large and diverse family of wonderful women, the kinds of women that we see in everyday life," Morris said. "Our mothers, our sisters, our daughters, our friends and our colleagues."
The decision not to digitally augment its models and erase things like scars, body hair and cellulite, also just melded with its original mission. "We always wanted to be authentic and allow women to see themselves reflected in our campaigns," Morris said.
As a bit of a trailblazer within the lingerie industry, alongside companies like Nubian Skin that has long pushed for more racial and size inclusivity within lingerie, how has it felt to see companies launch with campaigns starring diverse-in-every-way non-models, and with inclusive sizing too? (Lonely's lingerie now comes in 34 different sizes.)
"It feels amazing to be such a small company making an impact and it can only be a good thing that other companies follow our lead," Morris said. "The industry has to change and it is up to Lonely and other lingerie companies to lead this change so that women feel validated and included."
But that being said, Morris has noticed that some of the most powerful lingerie companies are still using outdated practices, and remain aloof to the idea of catering to a diverse array of women, who wear lingerie for more reasons than to cater to the male gaze. She thinks that buyers ultimately have the ability to change the status quo.
"So many lingerie companies have not moved into the 21st century," Morris said. "For example, Victoria's Secret, whom still holds around 50% market share in the U.S., has so many problem areas, from their stereotypical marketing, low ratings for production practices, hugely disproportionate CEO pay. We need to collectively make change with our purchase decisions and customers need to know the power their choices have."
By supporting brands that do have this message of supporting women, practicing ethical practices and creating images featuring women who aren't usually given the spotlight in lingerie, customers would be sending a message of how they want the future of lingerie marketing to look.
As Morris said: "It would be a huge win for us and women everywhere if our message became the norm."