Brittany Packnett: Black women show up for you. It's about time you started showing up for them.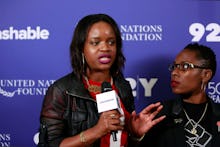 Brittany Packnett wants you to know that she doesn't mind if you call her an angry black woman.
"I am absolutely an angry black woman," Packnett, an activist and writer, said. "You can call me that all day long. I am an angry black woman because too often we see black women going unsupported and unprotected in this country."
Joined by protesters from across the country, Packnett marched through Saraland, Alabama, on Sunday in support of Chikesia Clemons, whose humiliation and subsequent arrest at a Waffle House in April made national headlines.
"Unfortunately so many victims of police violence are not here to tell their tale, but Chikesia is," Packnett said. "And she is standing up for herself and for women all across this country."
Sunday's march for Clemons comes amid growing calls to boycott Waffle House follow her mistreatment, but Packnett wants you to know that this problem is so much bigger than one fast food chain.
"This isn't just a Waffle House problem and this isn't just a Saraland problem," Packnett said. "At the end of the day, we continue to treat black women like they're here for our labor, they are objects of sexual desire or they don't matter at all. Those three categories do not define me. They don't define Chikesia. They didn't define Sandra Bland."
She added, "The stories of black women must be told. And the leaders like Chikesia Clemons are here to remind us that black women can do anything and for one another. Remember to actually show up for black women in your workplace, in your house of worship, in your neighborhood."
In her latest video op-ed for Mic, Brittany Packnett is calling on you to start showing up in support of black women. Watch it above.