"A truly sad moment in history": What Trump canceling Kim summit means moving forward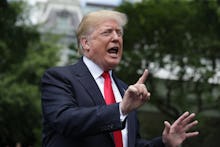 President Donald Trump's abrupt decision to cancel his highly anticipated June 12 meeting with North Korean leader Kim Jong Un could renew tensions between the two capitals and ultimately damage America's credibility in Asia, experts warned Thursday.
"Trump is risking a return to the escalatory dynamic that characterized 2017," Kelsey Davenport, director of nonproliferation policy at the Arms Control Association, said in a phone interview on Thursday. "The language he used in his letter was over the top and risks closing the door on future talks."
Trump wrote in a letter to Kim Thursday that he is canceling the meeting that had been scheduled for the two leaders in Singapore because of the "tremendous anger and open hostility" he said Kim had displayed.
"The world, and North Korea in particular, has lost a great opportunity for lasting peace and great prosperity and wealth," Trump wrote. "This missed opportunity is a truly sad moment in history."
He also delivered a thinly veiled threat against the North Korean regime, whose Vice Foreign Minister Choe Son-hui warned Thursday that the "behavior of the United States" will determine if the two countries will meet "at a meeting room or encounter us at nuclear-to-nuclear showdown."
"You talk about your nuclear capabilities," Trump wrote, "but ours are so massive and powerful that I pray to God they will never have to be used." That jab echoed a taunt Trump made at Kim on Jan. 2, when he boasted that his nuclear button is "much bigger and more powerful" than Kim's.
Davenport said that such nuclear weapon "measuring contests" are unnecessary. "They're highly provocative and endanger the chances of future diplomacy," she added.
Trump's decision to pull out of the meeting came the same day North Korea allowed international journalists to witness what they said was the destruction of its Punggye-ri nuclear test site.
Trump and Kim spent much of 2017 trading personal insults and threats. But ahead of the Winter Olympics this year, a diplomatic push by South Korean President Moon Jae-In de-escalated tensions on the peninsula and led to some major breakthroughs, including a historic meeting between Moon and Kim in South Korea in April.
In March, Trump announced that a plan to meet with Kim, in what would be an unprecedented summit between the U.S. and North Korean leaders. Since then, he has routinely increased expectations for the meeting and suggested that he should win the Nobel Peace Prize for his role in getting the North Koreans to the negotiating table.
This delicate diplomacy had seemed in jeopardy in recent days after the North Korean capitol threatened to call off the meeting over routine military exercises by the U.S. and South Korea, and over comments made in April by John Bolton, Trump's hawkish national security adviser, suggesting that the administration would seek regime change.
Bolton had suggested the administration would follow the "Libya model of 2003, 2004" in its approach to denuclearizing the peninsula; Libyan leader Muammar Gaddafi abandoned his nuclear program in exchange for sanctions relief and normalized relations with the West, but was killed in 2011 during a U.S.-backed uprising. Vice President Mike Pence made similar comments on Fox News earlier this week, suggesting North Korean leadership could end up like Gaddafi if the country does not denuclearize. North Korea responded Thursday by calling Pence's remarks "ignorant and stupid."
On Tuesday, Moon met with Trump to discuss strategy on the peninsula and to attempt to salvage the meeting, which Trump had suggested he could cancel or delay.
A number of lawmakers in the U.S. have also been encouraging Trump to continue on the path of diplomacy with Kim. Rep. Ro Khanna (D-Calif.) told Mic earlier this week that the mere act of holding a meeting with North Korea "would be a win."
In a follow-up interview on Thursday, Khanna called Trump's decision to cancel the summit "disappointing." Khanna met with Trump in the Oval Office a few weeks ago to convey bipartisan support for the summit. He said that the president appeared to be looking forward to the meeting. Khanna added that he isn't sure what changed for the president since then, but expressed concern that he had given into the more hawkish voices in his administration and feared that U.S. foreign policy is being made "in reaction to personal insults or taunts."
"I think there is a deal to be made," Khanna said of the effort to denuclearize the Korean peninsula. "The president has called himself a great dealmaker — he ought to go and make a great deal."
Canceling the meeting could cause a return to last year's heightened tensions — and risks of a confrontation between the U.S. and North Korea, Khanna said. But he also expressed confidence that Gen. Joseph Dunford, the chairman of the Joint Chiefs of Staff, along with Secretary of Defense James Mattis could be "sober" voices in the administration.
"My hope is that those voices will prevail," Khanna said.
It remains to be seen how North Korea will react to Trump's cancelation, but the president warned in a press conference Thursday that America's military would be "ready if necessary." He also said that "our very strong sanctions" and "maximum pressure campaign" would continue in North Korea, but left open the possibility that the meeting could still take place at some point.
South Korea appeared to be taken by surprise by Trump's move, with the country's leadership calling an emergency late night meeting on Thursday. A spokesperson for Moon told reporters that "we are trying to figure out what President Trump's intention is and the exact meaning of it."
According to Davenport, Trump's move could jeopardize South Korea's diplomatic outreach.
"It certainly risks rupturing the inter-Korean process, which I think has brought greater stability to the region and is a very promising avenue to further stabilize the relationship," Davenport said.
Further, Catherine Killough, the Roger L. Hale fellow at Ploughshares Fund who focuses on North Korea's nuclear program, called Trump's decision to cancel the summit without coordinating the move with South Korea — and to do so shortly after meeting with Moon — "reckless and condescending."
"Going forward, Trump needs to recover what little credibility the U.S. has left with its allies," Killough said in an interview on Thursday.
Killough said the cancellation doesn't bring us "quite back to the 'fire and fury' days," because the possibility for a future summit remains open — referring to Trump's infamous threat in August that Kim would be met with "fire, fury and, frankly, power, the likes of which this world has never seen before" if he continued his nuclear provocations.
"Pragmatically speaking, this is exactly what diplomacy looks like," Killough said. "Push and pull until both sides understand what is realistically possible to achieve."
Still, Davenport said, Trump's actions may have made dialogue between the U.S. and North Korea more challenging going forward.
"There's a pattern to Trump's actions — he destroys a process without a plan B in place," Davenport said. "It will be critical for the Trump administration to try to maintain its diplomatic channels with North Korea because a return to the 'fire and fury' days would not benefit [either country]."
"But Trump certainly made that more difficult," she added.