New report details multiple allegations of sexual harassment against actor Morgan Freeman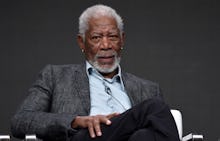 A CNN report released Thursday morning details allegations of sexual harassment and inappropriate behavior against 80-year-old actor Morgan Freeman. In the report, eight women say they experienced behavior including unwanted touching, sexual comments and harassment.
One of the women accusing Freeman of inappropriate behavior is Chloe Melas, a CNN entertainment reporter and a co-author of Thursday's report, who said that she met Freeman while he was doing press appearances for his 2017 comedy Going in Style. Melas said that, at the press event with Freeman, in front of a crowd of people including his co-stars Alan Arkin and Michael Caine, Freeman made sexual comments to her. Melas was six months pregnant at the time of the event, and alleges that Freeman held her hand and wouldn't let go, and looked at her body, saying, "You are ripe," and "Boy, do I wish I was there." At least one of his comments was recorded on video. Melas' experience with Freeman led her to seek out any other women who might have had similar experiences with the actor — and she found several.
One production assistant who worked on Going in Style in the summer of 2015 told CNN that Freeman harassed her on set for months, with behavior that included rubbing her lower back, making comments about her body and repeatedly trying to lift her skirt. Freeman "kept trying to lift up my skirt and asking if I was wearing underwear," the former PA, who is not named in the report, told CNN. She told CNN that her experience with Freeman led her to leave Hollywood all together.
Another woman who worked on set with Freeman on a different movie, the 2013 film Now You See Me, told CNN that Freeman sexually harassed both her and her assistant on set. The woman, who was a "senior member" of the film's production staff, according to CNN, said that Freeman commented on women's bodies. "We knew that if he was coming by ... not to wear any top that would show our breasts, not to wear anything that would show our bottoms, meaning not wearing clothes that [were] fitted," she said.
The harassment also reportedly occurred at Revelations Entertainment, the production company that Freeman co-founded in 1996 with now-CEO Lori McCreary. Six former Revelations staffers told CNN that they had seen Freeman behave innapropriately around women, including making sexual comments. One told CNN they had seen him engage in what the report described as "unsolicited touching."
One woman, a former manager at Revelations, said that Freeman would "come over to my desk to say hi and he'd just stand there and stare at me. He would stare at my breasts. ... One time he stopped, looked me up and down as I walked into a room of people, and everyone burst out laughing. And I literally froze feeling very uncomfortable and one of the people in the office said, 'Don't worry, that's just Morgan.'"
A male former employee described Freeman's presence at the office as akin to a "creepy uncle," telling CNN, "One time I witnessed Morgan walk up to an intern and start massaging her. ... The intern got visibly red and wiggled out of his grasp, it was awkward."
Four of the women who described their on-set experiences with Freeman to CNN said they didn't report his behavior, some because they said they "feared for their jobs." As with other high-profile men in Hollywood who have been accused of harassment amid the #MeToo movement, Morgan's alleged harassment had witnesses in several cases, and at his own production company his alleged inappropriate behavior seems to have been somewhat of an open secret, according to the CNN report. But his alleged victims described a lack of systems to deal with the harassment, and a culture that seems to have mostly tolerated Freeman's alleged behavior.
Freeman, a prolific actor whose career spans decades, is also an activist who has rubbed shoulders with former Presidents Barack Obama and Bill Clinton. Several of the women who told CNN that they didn't speak out against Freeman's behavior out of concern for their jobs said that they instead came up with strategies to adjust their own behavior, including wearing different clothes when they knew he would be on set.
One production assistant who worked with Freeman on 2008's The Dark Knight said that she was never a victim of Freeman's alleged harassment but that she witnessed him make inappropriate comments to women on set, and that women would discuss among themselves how Freeman had made them uncomfortable.
"Morgan did things in a way that an older more established person can get away with because they have that power," she told CNN. "They can't be replaced, but you can be replaced very easily, that's just kind of the dynamic on set. PA's can be replaced, grips can be replaced, electricians can be replaced, but the actors — once they're in, they're in. Had it been somebody else on the crew ... I would feel comfortable reporting them because I wouldn't feel like my job would be in danger by reporting them, but if you report somebody like Morgan Freeman that the movie would lose a lot of money by replacing them or getting them in trouble, then you're the troublemaker and you'll get fired because you're just a PA."