Jessamyn Stanley reflects on being labeled body positive and fighting against tokenization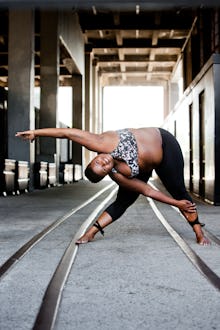 Jessamyn Stanley was on Instagram before it was cool.
It was 2012 or 2013, and Stanley, who was working two different jobs in Durham, North Carolina, at the time, was using the photo-sharing platform to post pictures of herself practicing yoga in an effort to connect with other yoga-lovers around the world. She soon realized she wasn't receiving the kind of feedback and comments her peers were.
"It wasn't people reaching out to be friends, or talk to me about yoga," Stanley said in a recent interview. "It was people being like, 'Wow, I didn't realize that fat people can do yoga.'"
It wasn't surprising to her, even now. "The idea that you would be showing this body society has deemed unacceptable in a way that's actually glorious, people were thrown," Stanley said. "We have this massive visibility issue because the media only puts attention on white, slender, cisgender, heteronormative bodies."
And yet here was Stanley, a black, fat, queer woman, proudly and powerfully bending her body into impressive yoga poses. Naturally she got attention, and at just the right time. A few of Stanley's Instagram posts went super viral in early 2015, which is right around the time when the body-positive community on social media was taking off.
Stanley and her posts fit with that message exactly, and the community started readily sharing her posts. But reflecting now, Stanley has new thoughts on that very label. She's not trying to be anyone's body-positive icon, for starters, partly because of the connotations that come with that label. "To a person who is slender and white and cisgender, people aren't like, 'Wow, you love yourself?'" Stanley said. "There's this connotation of being like, 'Oh, you're unacceptable. But you've found a way to love yourself? That's crazy. You're amazing.'"
As opposed to "body positive," Stanley now prefers to categorize herself as someone who believes in "body liberation," as a way to free herself from body hierarchy entirely.
That label aside, in addition to the attention of this bubbling online community, Stanley also got the attention of plenty of hugely popular, mainstream brands as well. Over the past few years, Stanley has appeared in campaigns for Target and Kotex, and has worked closely with JC Penney, Samsung and Planet Fitness.
With her being one of the most visible black, fat, queer woman in yoga however, feeling tokenized by brands for who she is has become an issue. "That feeling," she said, "is so shitty."
When choosing who to collaborate with, Stanley is now forced not only to consider the brand's mission, but the visibility it could offer for other people like her.
"Are they doing something or saying something that should have been done before?" Stanley said. "If that's the case, then that can bridge the gap and I can be OK with feeling a little tokenized for who I am. The number of people who said to me, 'Wow, I never saw myself on TV until you were there,' after the Kotex commercial, that makes up the balance to me. Where would I be right now if I grew up seeing commercials with women who looked like me in them? When I think about this next generation and visibility, it makes me feel more comfortable bridging these capitalist relationships."
There is an inherent authenticity that shines through Stanley's profile. Perhaps it's because her mission from the beginning hasn't been to capitalize on her fame, though that's certainly happened a bit, but to live her yoga practice and improve every day. She doesn't exactly advertise calls to action or cheeky Instagram hashtags, which many other Instagram figures with 360,000+ followers are wont to do. She remains largely focused on her yoga, and on spreading compassion.
Her followers have followed her lead and are, according to her, "people who are genuinely trying to love themselves and be compassionate toward themselves. Whenever they're reacting to me, I almost feel like my followers are hyping themselves."
With four years of internet spotlight trained on her, she's learned a lot. But each and every day, there is a new lesson, whether it be the power of visibility, the power of herself or the power of the community she's brought onto Instagram.
"We are only inspired by ourselves," Stanley said. "We see someone who looks like us and that brings us inspiration to ourselves. Everything I say on social I'm saying to myself. I'm not going to tell you what to think. I'm going to be authentic and honest, and that's it."