The R Kelly abuse allegations mirror classic sex trafficking dynamics, expert says. Here's how.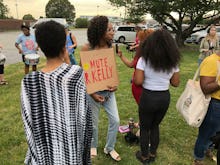 The long list of sexual misconduct allegations against R. Kelly is getting longer. On Tuesday, Faith Rodgers, 20, told CBS News that the famed R&B singer infected her with herpes in 2017. Rodgers said Kelly demanded sex from her and told her to call him "daddy." She is suing him for failure to disclose a sexually transmitted disease, and has accused him of sexual battery. Her attorney plans to seek a criminal trial against the singer, according to the report.
Rodgers' accusations add to those shared by multiple women in the past year. In July 2017, BuzzFeed reported that Kelly was allegedly holding six women captive in a "cult" in properties he'd rented in Chicago and Atlanta (Kelly was reportedly evicted from his Atlanta rentals in February for failing to pay rent).
All six women — who ranged in age from 18 to 31 — were reportedly aspiring entertainers whom Kelly had promised to mentor. He allegedly kept them confined inside his homes and controlled several facets of their lives, from what they wore and who they spoke to, to who they had sex with and when they used the restroom.
On May 4, two other women shared horror stories about Kelly with BuzzFeed: Lizzette Martinez, who said she had a relationship with Kelly that started in 1995, when she was 17 years old. And another, Michelle, who said her daughter is part of Kelly's alleged cult. (Both names were withheld in the report to protect their identities.)
"It was very controlled: what I wore, how I spoke, who my friends were, who I could bring around," Martinez told BuzzFeed. "[Kelly is] just so controlling, so abusive."
According to Sunnetta Slaughter, an anti-human trafficking advocate and co-director of the Violence as a Public Health Issue Committee for the Southeastern Health Equity Council, Kelly's alleged behavior is all too familiar.
"R. Kelly's alleged predatory behavior indicates signs of sex trafficking," Slaughter explained. "A lot of people don't understand the complexity and nuances of sex trafficking, victimization and violation."
In an interview with Slaughter, Mic explored the connections between Kelly's alleged misconduct and the signs and behaviors that indicate sex trafficking. Kelly's spokespersons have repeatedly denied such accusations, dating back to the singer's alleged marriage to late R&B star Aaliyah, when she was 15 and he was 27, in 1994. Despite years of similar allegations — including a highly publicized criminal trial in which Kelly was acquitted on 14 counts of child pornography in 2008 — Kelly has became one of the most successful names in R&B, having sold more than 100 million records worldwide, and collaborated with dozens of artists from Jay-Z to Lady Gaga to Chris Brown.
The Trafficking Victims Protection Act of 2000 defines sex trafficking as when "a commercial sex act is induced by force, fraud or coercion, or in which the person induced to perform such act has not attained 18 years of age."
Human trafficking can also be nonsexual, referring to "the recruitment, harboring, transportation, provision or obtaining of a person for labor or services, through ... force, fraud or coercion for the purpose of subjection to involuntary servitude."
Media portrayals often lead to misconceptions about the subject.
"Most people have seen trafficking schemes from the lens of movies like Taken, where you have white women and girls [who are abducted]," Slaughter said.
In reality, black women and girls are the demographic most vulnerable to sex trafficking, according to the most recent available data on victims by race, published by the Department of Justice in 2011. Between January 2008 and June 2010, 94% of sex trafficking victims were female. Forty percent of the victims were black and 26% were white.
Nor do trafficking victims have to be kidnapped, bound or chained, Slaughter added. Coercion can be an equally effective tool.
"That's actually how a lot of trafficking schemes happen in America," she said.
Coercion — rather than force — seems to be how Kelly operates, if the allegations are true. Rodgers, the 20-year-old accuser, claimed to have met five of the women being held in Kelly's alleged "cult" in the past year. Kelly reportedly told Rodgers that he was "raising" these women — which Slaughter said may refer to "grooming," a term anti-trafficking advocates use to describe how victims are coerced into being trafficked.
"R. Kelly's behavior[s] have that cult-like nature to them where he's keeping so many people in a home, and how he treats them," she said, describing allegations of how he treats the women close to him. "How he requires them to wear something specific. How he requires them to ask to go to the bathroom. How he requires them to engage in sexual activity with one another and requires them to engage with him."
Polaris, a nonprofit organization working to end modern slavery, counted 10,615 individual trafficking victims using its U.S. hotline in 2017. Of these, 7,255 were victims of sex trafficking. Many of them had been recruited. Based on recruitment data specified by 2,136 victims, intimate partner or marriage proposition was the most common means, followed by recruitment by a family member, a predator posing as a benefactor, job offers and false promises or fraud.
In the case of R. Kelly for instance, multiple women who spoke out against Kelly said he promised his alleged victims mentorship and work before they came under his control. Michelle, the mother of one alleged victim, told BuzzFeed that Kelly offered her daughter a personal assistant job before she moved in with him. Martinez, who was an aspiring singer when she met Kelly, said he promised to help her career.
"I sang for him, and he played the piano, and he said he wanted to help me and develop me and write songs," she said, "and I was really excited about it, you know. I was like, 'Wow, finally, my chance.'"
Another parent, "J.," whose full name is omitted in the July BuzzFeed report said she was under the impression Kelly would help launch her daughter's career when she met him May 2015.
"He was going to help her with her CD, and I was really impressed with him at first, because I have always been an R. Kelly fan," the mother said.
Traffickers are also enabled by accomplices, in many instances. In Kelly's case, this could include anyone who knowingly, willfully and intentionally supports him and his alleged behavior, Slaughter explained.
Kelly's money and fame have further shielded the singer from consequences, #MuteRKelly co-creator Oronike Odeleye aruged. The boycott movement, launched in July, has maneuvered to hamstring the singer's finances. But even this has had minimal impact: After Spotify caved to activist pressure and removed Kelly's music from promoted playlists earlier this month, his weekly streaming average on the platform reportedly increased by 92,000 streams.
Meanwhile, not every woman associated with Kelly has spoken out against him. Jocelyn Savage, whose family last summer accused Kelly of holding her in a cult, denied having been mistreated by the singer.
"None of that is true," Savage told TMZ during a solo trip to Los Angeles on May 8. "All of that is false accusations. People talk all the time. It's just rumors. ... [People] are making things up to get money."
Slaughter said it is not uncommon for trafficking victims to deny they are victims of wrongdoing.
"Shame, guilt and if they leave, they may be afraid that retribution can happen to other victims that are in a trafficking ring," she said. "They also may not think that anyone will believe them."
R. Kelly's alleged victims so far have been mainly black girls and women — another reason the singer has been able to continue his alleged behavior free from accountability, Slaughter said. Black girls are perceived as more sexual and less innocent than their white peers, according to a 2017 study from the Georgetown Center on Poverty and Inequality. This bias can make law enforcement less likely to see them as victims.
"I don't think retribution or even a reckoning of this can happen until black women and girls who are victims are no longer invisible and ignored," Slaughter said.
Given the allegations circulating about Kelly's misconduct with women and girls, his fans and associates should, at the very least, question their support for the singer, she added.
"We need to have more conversations about idolizing entertainers who are accused of exhibiting these behaviors," she said. She added that people like Kelly's access to potential victims is virtually limitless. "They have a lot of access and they move around the country freely."