A quirky art exhibition in Berlin imagines what the future of food will look like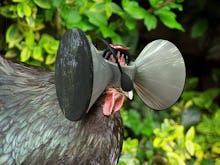 Eighty apple trees are fitted with IV bags in the courtyard of Berlin's Kunstgewerbemuseum. The neon green liquid represents the plant's fragility, a nod to the impact of climate change. Inside the museum, there's "Bugs Bunny," a meatloaf made from mealworm paste shaped to look like a rabbit; a butchered pig encased in 60 silicone blocks and a pile of rotting cookies. This is the future of food, at least according to this art exhibition, both an artistic and scientific laboratory at the city's Museum for Decorative Arts.
The provocative installations, just a few of many in the exhibition Food Revolution 5.0: Design for Tomorrow's Society, come from more than 30 artists. These works imagine a "global food revolution" that connects futuristic technologies with centuries-old cultural and artisanal techniques to meet the growing demands of food production and consumption.
Some of the thought-provoking installations include a virtual reality headset for chickens (so they can experience the idyllic pastoral life) or "human hyenas" capable of digesting rotten food — to make the spoiled scraps appetizing, artist Paul Gong also developed an aroma and taste converter. Curator Claudia Benz sees this exhibition as an opportunity to think more critically about food consumption. Throughout the gallery, she refers to eating as "a highly political act" that feeds into industries of land-grabbing, speculation and waste.
According to the Food and Agricultural Organization of the United Nations, three-quarters of agricultural biodiversity has been lost over the last century; 75% of all world's food comes from only 12 plants and five animal species. Perhaps more alarming, the FAO estimates that some 1.3 billion tons of food are thrown away each year, while nearly 1 billion people worldwide go hungry.
One installation by the Center for Genomic Gastronomy, called To Flavor Our Tears, imagined what it'd be like if human bodies were back in the food chain — and flavorful to other species. VR simulations have viewers as deadly micro-organisms traveling through human intestines and wolves hunting morning joggers.
Another installation created a tomato fish farm, in which fish and plant cultivation form a sort of symbiosis. All this is stereotypically Berlin, a city famous for embracing the weird. But there is a surprising amount of reality laced between prototypes of 3D-printed mealworm meatloaf and a chicken wearing a headset.
At the exhibit, one food expert and FDA inspector said they could see something like lab-grown meat becoming a reality, though a cost-effective model is a one of its biggest obstacles, along with confronting the massive meat industry. This gets at a key point: a "food revolution" is still a niche proposition, and even if the food looks, sounds and tastes spectacular, if it's unaffordable, it'll fail fast.