Movement Must-Reads: The case of Cyntoia Brown and navigating America #WhileBlack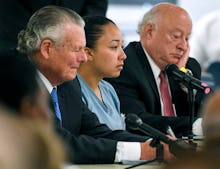 Private school segregation, a teen sex trafficking victim sentenced to life in prison for killing her abuser and a Texas woman's seemingly false allegations that a state trooper sexually abused her headline a week of troubling stories, many of which flew under the news cycle's radar, but all of which are eminently worth your time.
Read on for more.
From Mic:
Mic asked Twitter users to share their experiences navigating America #WhileBlack. Here are their responses.
Natelegé Whaley's heartrending update on the case of Cyntoia Brown, who was a 16-year-old sex trafficking victim sentenced to life in prison after she shot and killed one of her abusers.
Chauncey Alcorn's report on how private religious schools are helping take America backward on school segregation.
And Alcorn's story about seemingly false allegations made by a Texas woman that a state trooper sexually assaulted her during a traffic stop. The trooper's body camera footage appears to contradict her claim, which became viral news after her attorney, Lee Merritt, and activist Shaun King amplified it on social media.
From elsewhere:
This BuzzFeed report on the opioid epidemic wracking Nigeria.
The New York Times Magazine's damning profile of Jordan Peterson, celebrity misogynist.
This piece of analysis by the Nation on Stacey Abrams' path to primary election victory in Georgia, and what Democrats can learn from the progressive, multiracial coalition the gubernatorial candidate is attempting to build.
And the New York Times' troubling roundtable interview with the cast of Arrested Development. The male cast members' response to allegations of Jeffrey Tambor's abusive on-set behavior are truly something to behold.
That's all for now. Until next week,