An inside look at Markham's, the most exclusive restaurant at Walt Disney World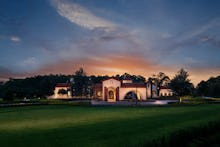 The sprawling Walt Disney World resort outside Orlando, Florida, is home to hundreds of dining options ranging from popcorn and turkey leg carts to the hard-to-reserve dining with princesses inside Cinderella Castle. But even the most elusive reservation is no match for the most exclusive Disney restaurant of all: Markham's.
If you've never heard of it, that might be because the only way to get a reservation is to first buy a home at Golden Oak, Disney's gated community just four miles from the Magic Kingdom.
Golden Oak is the only place in the world where you can literally buy a piece of Disney resort property. Established in 2011, the neighborhood has 300 homes, including 30 houses that are part of the Four Seasons Private Residences. These single-family homes start at about $2.2 million and it's safe to say the home buyers are massive Disney fans. (One standout custom design with the houses was an in-home elevator with Beauty and the Beast characters etched into the mirror.)
Mic recently visited Golden Oak and had dinner at Markham's as a guest of Disney. We were escorted to Summerhouse, the neighborhood's 17,000-square-foot social hub, on a Friday evening, and both the club's lounge, Tyler's, and its dining room were bustling with residents and their guests.
The menu at Markham's changes weekly. The team, led by chef de cuisine Phillip Ponticelli, uses locally sourced ingredients when possible, some of which come from the Golden Oak garden or the Land at Epcot, an area inside the theme park with several greenhouses.
The club is upscale, but not stuffy. Men aren't required to wear a jacket or tie, and the decor features comfortable leather seating and warm wood floors, with a Tuscan wine cellar vibe in the main dining room thanks to a curved brick ceiling. Disney branding here is minimal, and mostly limited to a hidden Mickey in the swirling branches of the Golden Oak logo, embossed on menu covers. Dining at Markham's — currently the only restaurant exclusively for the Golden Oak community — has proven so popular that the area is getting a 2,700-square-foot expansion. Later this year, Summerhouse will have a larger bar, more lounge seating, additional dining space and a $1.5 million upgrade to the main kitchen along with some more casual fare, like pizzas and finger foods, in the lounge.
The menu at Markham's is a la carte, with appetizers ranging from $9 to $18 and entrees from $24 to $40. Seated at the far end of the dining room near an open kitchen prep space, our first course included off-menu lightly fried squash blossoms stuffed with ricotta cheese and herbs, and garnished with microgreens and marinated tomatoes.
The appetizer options included beef carpaccio, mussels fra diavolo, fried calamari and a variety of salads. The kitchen was able to grant my request of rings only (I had a mildly traumatic encounter with the tentacles as a child and never quite recovered) and the perfectly fried calamari ($14) was tossed with capers and sliced pepperoncini, with an herb ravigote sauce for dipping. The portions throughout the night were generous — if you lived at Golden Oak, it would be easy to bring home leftovers.
Entrees during our visit included pork tenderloin, veal osso buco with mushroom risotto, prosciutto-wrapped snapper, chili-seared scallops and shrimp scampi. I ordered the scampi ($24), which included a half dozen sizable Gulf shrimp served with house-made angel hair pasta. My husband's filet mignon was, he said, one of the best he's ever had, and at $40 is the most affordable one on Disney property.
Dessert was the most fun course of the evening. I was torn between the Markham's sundae with vanilla gelato, a Nutella blondie and roasted strawberries or the shortbread bar topped with vanilla bean-lavender ice cream ($10). The server recommended the shortbread, and the ice cream melted perfectly into the soft shortbread and berries. The most Instagram-worthy item on the menu was the Milk & Cookies ($8): a Nutella milkshake in a glass milk bottle with an assortment of snickerdoodles, chocolate shortbread and coconut macaroons.
Markham's may not have the historical lure of Disney spots like Club 33 at Disneyland, a private club started by Walt Disney himself, with a years-long waiting list and steep membership fees that are rumored at $50,000 to join and $15,000 annually. But with only 300 households eligible for Golden Oak membership and a reported 500 members at Club 33, Markham's remains the hardest table to book on all of Disney property.
Unless you're open to the long-term commitment of multimillion-dollar home ownership, there's only one other way to enjoy an evening at Markham's: Befriend a Golden Oak resident and hope for an invite to the culinary enclave.