Today in Trump's America: What happened in the FBI briefing on the Trump campaign informant?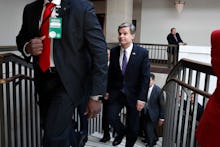 Welcome to Mic's daily read on Donald Trump's America. Want to receive this as a daily email in your inbox? Subscribe here.
Good morning from Emily Singer at Mic.
Here's what's happening in Trump's America:
• Happy (almost) Memorial Day weekend. It looks to be a mostly quiet day on the political front. President Donald Trump's main event is delivering the commencement address at the United States Naval Academy in Annapolis, Maryland.
About last night: What happened in the FBI briefing?
A select group of members of Congress were briefed on Thursday by the top brass of the FBI and Justice Department on the alleged use of an informant to meet with members of the Trump campaign in 2016.
Trump demanded the briefing, claiming without any evidence that the FBI put a spy on his campaign for political purposes.
Since the briefing, the public has only heard from members of congressional Democratic leadership, who demanded to be included in the meeting after they were initially to be kept out. Although they gave no details about what they learned, they did say that they heard, "no evidence to support any allegation that the FBI or any intelligence agency placed a spy in the Trump campaign."
Republicans in the meeting — including key Trump defender Rep. Devin Nunes (R-Calif.) — have been mum about what they heard. That leads experts to believe that Republicans didn't learn of anything they could use to back up Trump's claim.
"We don't know what happened inside today's DOJ meeting, but I think we can rule out any big revelation that the FBI acted inappropriately," Josh Campbell, a former FBI agent turned CNN analyst, tweeted Thursday. "And the reason we know this is because Chairman Nunes didn't trip over his colleagues racing to the cameras to tell us about it."
Trump, for his part, tweeted about the "spy" situation — despite the fact that no Republican in the meeting has said publicly that Trump's allegations are true.
"Can anyone even imagine having Spies placed in a competing campaign, by the people and party in absolute power, for the sole purpose of political advantage and gain?" Trump tweeted Friday morning. "And to think that the party in question, even with the expenditure of far more money, LOST!"
Eyebrows were raised when the president sent chief of staff John Kelly and Trump legal team member Emmet Flood to the classified briefing. But the White House said the two men only attended to make remarks on behalf of Trump at the beginning of the briefing.
Today in Trump's America: The dreaded news dump
As Americans prepare to flee for Memorial Day — the unofficial start of summer — politicians who have dirty laundry are likely mulling whether to drop any bad news at the end of the day, to try and bury coverage while the public is gearing up to enjoy a long weekend.
These types of news dumps usually come around or after 5 p.m. on the Friday before the holiday weekend.
Do you think there will be a news dump today? Email us at trumpsamerica@mic.com. If you guess correctly, we'll give you a shoutout in Tuesday's newsletter, when your NTA author returns to work.
Capitol Hill happenings: Senate passes sexual harassment bill
The Senate on Thursday passed a bill laying out how the chamber will handle sexual harassment allegations levied against senators.
The bill had been held up for weeks by disagreements about whether senators should be personally responsible for paying any settlements out of their own pockets.
The Senate bill — drafted by Missouri GOP Sen. Roy Blunt and Minnesota Democratic Sen. Amy Klobuchar — settled on requiring senators to pay out of pocket for settlements regarding sexual harassment allegations. It does not include settlements regarding sex discrimination or any other kind of workplace discrimination, according to CNN.
That differs from a House-passed bill from February, which forces lawmakers — including those who resign — to repay the Treasury within 90 days after making a settlement over any workplace harassment or discrimination claims.
Unlike the House bill, the Senate bill also gives more power to the Ethics Committee to investigate allegations.
The House and Senate will now meet in conference to work out the differences and come up with a compromise.
Both chambers' legislation was borne out of the #MeToo movement.
And the rest…
"Colossal waste": The head of the Border Patrol union called Trump's deployment of National Guard troops to the Mexican border a "a colossal waste of resources," according to the Los Angeles Times.
Pain at the pump: Rising gas prices could wipe out any benefit middle-class Americans received from the GOP tax cut, Politico reported.
Dear John: The Washington Post posted a timeline of how Trump made the decision to call off the meeting with North Korean leader Kim Jong Un.