Harvey Weinstein surrenders to police, faces rape charges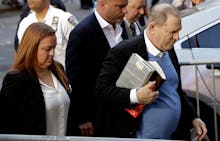 Former Hollywood producer Harvey Weinstein, whose name became synonymous with the now widespread #MeToo movement after a New York Times report from October detailed decades of allegations of sexual assault against him, turned himself into New York police on Friday. CNN reported that prosecutors charged Weinstein with first and third-degree rape in one case and first-degree criminal sex act in another case.
In a statement published by the Hollywood Reporter, Manhattan District Attorney Cy Vance said that Friday's charges, "reflect significant progress in this active, ongoing investigation," adding, "I thank the brave survivors who have come forward, and my office's prosecutors who have worked tirelessly on this investigation." Ben Brafman, an attorney for Weinstein, told the Hollywood Reporter that his client will plead not guilty to the charges.
The news that Weinstein was planning to surrender to New York authorities broke earlier this week. Speaking to the Hollywood Reporter on Thursday about the news that Weinstein might soon face charges, actress Rose McGowan, who publicly accused Weinstein of sexual assault in the Times report that opened the floodgates, released a statement.
"I, and so many of Harvey Weinstein's survivors, had given up hope that our rapist would be held accountable by law," McGowan said through a representative. "Twenty years ago, I swore that I would right this wrong. Today we are one step closer to justice ... We were young women who were assaulted by Weinstein and later terrorized by his vast network of complicity. I stand with my fellow survivors. May this give hope to all victims and survivors everywhere that are telling their truths."
Exposés in both the Times and the New Yorker revealed allegations from women who said they had been propositioned, harassed, assaulted or raped by Weinstein, who allegedly used his powerful role in Hollywood to prey on women within the industry.
On Thursday, the Times reported that the criminal sex act charge Weinstein is now facing is in connection with his alleged assault of Lucia Evans, who told the New Yorker that she met Weinstein for what she thought was a casting meeting at a Miramax office in Manhattan. At the time, Evans was a college student with hopes of becoming an actress. Evans said that Weinstein forced her to perform oral sex on him at the meeting.
It was women sharing their experiences with Weinstein that made way for more victims to come forward with allegations against powerful men in the entertainment industry and beyond, revealing systems that seemed to, for years, insulate those men from any repercussions and silence their victims. With Weinstein's arrest comes a new chapter for the #MeToo movement. Tarana Burke, the activist who originated the rallying cry and hashtag #MeToo, spoke to Variety about Weinstein's then-impending arrest on Thursday.
"This moves from the court of public opinion into an actual courtroom," Burke told Variety. "That is super cathartic for a bunch of the survivors, or even survivors who are not necessarily victimized by him." On Twitter, Times Up, the initiative founded to combat workplace sexual harassment in Hollywood and beyond, tweeted about the significance of the day.
In a statement to Mic, organizers of the Women's March called Friday "an important day in terms of visibility for all women whose lives have been devastated because of the actions of Harvey Weinstein," adding, "We seek justice for women and all people who have been harassed and abused in the workplace. No person should be violated at work, or anywhere else. Ever. Toxic masculinity and misogyny can no longer be ignored or tolerated at the workplace or any other place in society. We stand with the brave women who came forward against Harvey Weinstein. We hope their courage will continue to inspire others to break their silence."
May 25, 2018, 10:38 a.m.: This story has been updated.