Trump continues to seethe about the FBI informant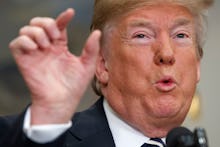 Democratic lawmakers briefed on Thursday about the FBI informant who met with Trump campaign officials during the 2016 election said they learned of "no evidence to support any allegation that the FBI or any intelligence agency placed a spy in the Trump campaign."
That hasn't stopped President Donald Trump from continuing to rail against the FBI for using a "spy" against his campaign.
In a series of tweets Friday morning, Trump continued to push his evidence-free allegation that a spy was embedded in his campaign for politically motivated reasons.
"The Democrats are now alluding to the the concept that having an Informant placed in an opposing party's campaign is different than having a Spy, as illegal as that may be," Trump tweeted Friday morning. "But what about an 'Informant' who is paid a fortune and who 'sets up' way earlier than the Russian Hoax?"
"Can anyone even imagine having Spies placed in a competing campaign, by the people and party in absolute power, for the sole purpose of political advantage and gain?" Trump continued. "And to think that the party in question, even with the expenditure of far more money, LOST!"
"'Everyone knows there was a Spy, and in fact the people who were involved in the Spying are admitting that there was a Spy ... Widespread Spying involving multiple people.' Mollie Hemingway, The Federalist Senior Editor," Trump tweeted. "But the corrupt Mainstream Media hates this monster story!"
Lawmakers who received the FBI briefing have not released any details about what they learned.
Democrats — who fought to be included in the meeting — said that they learned of nothing to back up Trump's claims. And Republicans in the briefing — including top Trump defender and Rep. Devin Nunes (R-Calif.) — have been silent.
Experts say the fact that Nunes and other Republican lawmakers in the briefing haven't sounded any alarms after the briefing is a sign that they didn't learn anything they could politicize in Trump's favor.
"We don't know what happened inside today's DOJ meeting, but I think we can rule out any big revelation that the FBI acted inappropriately," Josh Campbell, a former FBI agent turned CNN analyst, tweeted Thursday. "And the reason we know this is because Chairman Nunes didn't trip over his colleagues racing to the cameras to tell us about it."