'Dancing With the Stars' winner Adam Rippon explains why he didn't have a male partner on the show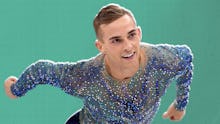 On Monday evening, Olympian Adam Rippon was crowned the season 26 winner of Dancing with the Stars alongside his partner, Jenna Johnson. Rippon becomes the second out LGBTQ person (following Nyle DiMarco in season 22) to take home the coveted Mirror Ball trophy.
On Wednesday morning, Mic sat down with Rippon to chat about his experience on the show, in particular the decision to have him — the first out gay U.S. winter Olympian — dance with a female partner.
"I think that the prospect of there being a male and male partnership or female and female partnership sounds awesome," he said, adding a caveat: "If everybody in the competition was doing it, sort of like a level playing field in a sense."
But he also saw an advantage as a gay guy partnering with a female, "because you can get right into like the nitty gritty and you can have that chemistry where you are very comfortable with ... another person. They're like, 'touch my butt' and you're like, 'okay.' There's no like, 'am I going to make someone uncomfortable?' or like 'is this too much?' I was at a huge advantage because right away Jen and I had this great friendship and comradery and like we, I just felt like I'd known her for a really long time."
But does he hope to one day see same-sex partnerships on the show? "Yeah, I think in the future it would be awesome if there were like, same-sex partnerships," he said. "But you know what? I don't think it's, like, a huge pressing matter."
Watch the full interview below: