Who's Sorry This Week? Jason Bateman, Morgan Freeman, Milwaukee police and other public apologies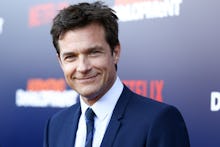 Another week, another deluge of apologies.
In Who's Sorry This Week?, Mic tracks down the most prominent mea culpas from celebrities, companies and other public entities trying to make amends for their various screw-ups.
This week had no shortage of apologies, so let's get right to it.
Jason Bateman, Tony Hale and David Cross are sorry they were giant jerks in an interview with the New York Times
On Wednesday, the New York Times published an interview with some of the cast of Arrested Development, the early 2000s screwball comedy which is about to premiere its second revival season on Netflix. The conversation quickly turned to the on-set behavior of actor Jeffrey Tambor, who was recently fired from Amazon's Transparent after being accused by two trans women of sexual misconduct.
Eventually, actress Jessica Walter recounted an incident with Tambor in which he "blew up" at her, saying through tears that in "almost 60 years of working, I've never had anybody yell at me like that on a set." Over the course of the interview, most of Walter's male costars were quick to interject and play down Walter's experience, saying things like "a lot of stuff happens" on set and characterizing Tambor's tantrum as a typical part of the creative process.
Alia Shawkat was the only one in the interview who came to Walter's unequivocal defense, saying that even if Tambor's behavior was out of character, "that doesn't mean it's acceptable. And the point is that things are changing, and people need to respect each other differently."
The following day, in the face of significant public criticism of the way they behaved, most of Walter's costars apologized. In a series of tweets, Bateman said he "realize[d] he was wrong here. ... I'm horrified that I wasn't more aware of how this incident affected her. I was so eager to let Jeffrey know that he was supported in his attempt to learn, grow and apologize that I completely underestimated the feelings of the victim. ... I deeply, and sincerely, apologize."
In a single tweet, Tony Hale said "he reached out to Jessica [Walter] personally to apologize. ... Regardless of my intentions, it is clear that my words, both said and unsaid, served to minimize Jessica's pain and for that I am extremely sorry."
In an interview with Gothamist on Thursday, Cross — husband of Amber Tamblyn, one of the founding members of Time's Up — expressed regret at the way he acted during the interview.
"[Shawkat and Tamblyn] expressed to me after that interview their discomfort with it. ... I listened to them, and I can't and wouldn't ever dismiss their take on something," Cross said. "And they are also two people who are aware of the bigger picture. So, it means even more than it normally would, which is a lot. So I will unequivocally apologize to Jessica. I'm sorry that we behaved the way we behaved. Whatever the criticisms are, I will own up. I don't even know what they are, as I said, I saw the initial thing but I jumped off [Twitter] at the behest of various people."
Morgan Freeman is sorry to "to anyone who felt uncomfortable or disrespected" following multiple allegations of sexual misconduct
CNN reported on Thursday that 80-year-old actor Morgan Freeman had been accused of a pattern of sexual harassment and inappropriate behavior. Eight women — including CNN reporter Chloe Melas — said they had experienced inappropriate touching, sexual comments or harassment.
Melas said during an interview with Freeman for his movie Going in Style, he made sexually charged comments to her. At the time, Melas was six months pregnant.
"Boy, do I wish I was there," Freeman said, looking her up and down. (CNN later released video footage of this interaction.)
Another woman, who worked as a production assistant on Going in Style, said Freeman repeatedly made inappropriate comments, rubbed her back, and "kept trying to lift up [her] skirt and asking if [she] was wearing underwear."
Thursday, Freeman released a statement apologizing for the alleged behavior.
"Anyone who knows me or has worked with me knows I am not someone who would intentionally offend or knowingly make anyone feel uneasy," Freeman said, per the Associated Press. "I apologize to anyone who felt uncomfortable or disrespected — that was never my intent."
New York lawyer Aaron Schlossberg is sorry for threatening to call immigration on people speaking Spanish
On May 15, a video posted to social media showed New York lawyer Aaron Schlossberg yelling at employees and customers in a Manhattan restaurant for speaking Spanish.
"My guess is they're not documented, so my next call is to ICE to have each one of them kicked out of my country," Schlossberg said, per the Washington Post. "If they have the balls to come here and live off my money — I pay for their welfare. I pay for their ability to be here. The least they can do — the least they can do — is speak English."
After the video went viral, other videos of similarly racist behavior surfaced, according to Insider. One shows him in a "Make America Great Again" hat; another shows him calling another person an "ugly fucking foreigner." Numerous reporters attempted to confront Schlossberg for his history of racist comments in the days following, but he ran away.
Congressman Adriana Espaillat and Bronx Borough President Ruben Diaz Jr. filed a formal complaint against Schlossberg, hoping to have his law license suspended, according to CNN.
In a statement posted to Schlossberg's Twitter on Tuesday, he apologized for his actions and denied that he was racist.
"To the people I insulted, I apologize. Seeing myself online opened my eyes — the manner in which I expressed myself is unacceptable and is not the person I am. ... I am not racist. One of the reasons I moved to New York is precisely because of the remarkable diversity offered in this wonderful city."
Milwaukee police are sorry for using a taser on NBA player Sterling Brown over a traffic violation
In January, Milwaukee police arrested and used a taser on Bucks player Sterling Brown over a parking violation. Until recently, police had declined to share the arresting officer's bodycam footage, which shows the officer confronting Brown for parking in a handicapped zone. Eventually, multiple officers show up, crowd Brown, tackle him to the ground and use a taser on him.
Throughout the course of the video, Brown does not appear to raise his voice or get physically confrontational with the officers. He was briefly held in police custody but was never charged with anything, according to the New York Times.
Late Wednesday, Milwaukee police chief Alfonso Morales said in a press conference that he was "sorry this incident escalated to this level." Morales said some members of the police had been "disciplined," but declined to name them or elaborate further.
"What should have been a simple parking ticket turned into an attempt at police intimidation, followed by the unlawful use of physical force, including being handcuffed and tased, and then unlawfully booked," Brown said in a statement, according to the AP. "This experience with the Milwaukee Police Department has forced me to stand up and tell my story so that I can help prevent these injustices from happening in the future."
"Situations like mine and worse happen every day in the black community," Brown added, per the Times.
Chicago White Sox catcher Welington Castillo is sorry he took performance enhancing drugs
Recently, Chicago White Sox catcher Welington Castillo tested positive for Erythropoietin, a performance-enhancing drug that stimulates the body to produce more red blood cells. This practice is also known as "blood doping," and is similar to one method cyclist Lance Armstrong used to aid him in winning several Tour de France titles.
As punishment, Castillo was suspended for 80 games, a sentence he began serving Thursday, according to the Daily Herald.
"I was recently notified by [Major League Baseball] that I had tested positive for EPO, a substance that is prohibited under MLB's joint drug agreement," Castillo said. "The positive test resulted from an extremely poor decision that I, and I alone, made. I take full responsibility for my conduct. I have let many people down, including my family, my teammates, the White Sox organization and its fans, and from my heart, I apologize."
South Carolina Democratic congressional candidate Archie Parnell is sorry he physically abused his wife
Archie Parnell, a candidate in the race to represent South Carolina in Congress, has admitted to physically abusing his ex-wife in the 1970s after the Post and Courier obtained divorce records containing these allegations.
The documents allege that in 1973, Parnell broke a glass door using a tire iron to get near his then-wife Kathleen Parnell and proceeded to strike her multiple times, according to the Post and Courier. Kathleen Parnell said she feared for her life and obtained a restraining order against him. The two were divorced by the following year.
Archie Parnell admitted to assaulting Kathleen Parnell in a statement released Monday.
"Forty-five years ago, while still a college student, I did something that I have regretted every single day since," Archie Parnell said. "In response to actions I feel unnecessary to specify, I lashed out and became violent with other people, including my former wife, which led to a divorce and monumental change in my life. These actions were inexcusable, wrong and downright embarrassing. Since then, my life has been changed by a remarkable woman, two amazing daughters, a forgiving God and a career that has taught me to cherish what I have."
In the time since, Archie Parnell's campaign manager resigned and the South Carolina Democratic party has asked Archie Parnell to drop out of the primaries, which will be held in June. He has not yet done so.