Brittany Packnett on NFL: If you can't handle peaceful protest, then what can you handle?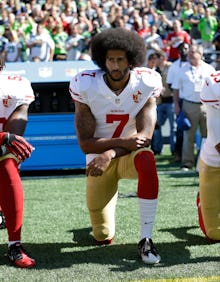 Activist and educator Brittany Packnett has a simple question for the NFL: If peaceful protest doesn't work, then what does?
"If you can't handle peaceful protest or silent protest, then what kind of protest can you handle?" Packnett asked.
The NFL announced Wednesday it would begin levying fines against teams whose players kneel during the national anthem, a new policy aimed at ebbing a wave of players protesting against police brutality. Those demonstrations, which saw some players kneeling, sitting or remaining in the locker room as "The Star-Spangled Banner" played before each game, drew the ire of President Donald Trump, who repeatedly encouraged decisive action from the NFL to stop the protests from taking place.
In a Thursday appearance on Fox and Friends, Trump did more than praise the NFL for its new policy — he argued that players who don't stand for the anthem "shouldn't be in the country."
"You have to stand proudly for the national anthem. Or you shouldn't be playing, you shouldn't be there. Maybe you shouldn't be in the country," the president said. "You have to stand proudly for the national anthem, and the NFL owners did the right thing."
But in her video op-ed for Mic, Packnett argued that patriotism and protest are not incompatible. In fact, fighting for what we believe in is our duty as American citizens.
"Look, the Founding Fathers were clearly imperfect people," she said. "But they gave us some ideals to aspire to. I love those ideals. Freedom. Democracy. Equality. And it is because I love those ideals and the promise and dream of America that I criticize it. That I fight every day to make sure that [the] American dream is accessible by every single American."
Packnett warned that the message from the NFL creates a deleterious racial hierarchy in the league.
"Here's the message they're trying to signal: There are owners and there are players," she said. "Most of the owners are white and many of the players are black. And never the two shall mix. The players can't tell the owners what to do, can't think for themselves, can't do for themselves, can't act for themselves without the owners' permission. This is reinforcing a racial hierarchy that we are not supposed to be aspiring to in this country.
"This is racial hierarchy that should remind you of other systems in this country that no longer exist," she added.
Watch Brittany Packnett's video op-ed for Mic above.