Cate Blanchett and pantsuits: a love story for the ages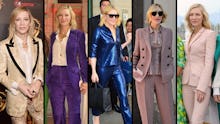 There are the celebrity fashion moments that are indisputably great, and then there are the celebrity fashion moments that make us re-evaluate our entire lives. Rihanna gives us these moments almost daily, as does Cate Blanchett.
Of course, Blanchett has remained a fashion icon for years now, with plenty of memorable gowns and awards show and premiere dresses that we still think about on the regular. But we have a particular affection for one of her favorite fashion moves: the suit.
Time and time again, Blanchett proves that no one on earth, or in the universe, knows how to wear a suit better than her. (Sorry 'bout it, Idris Elba.) The latest evidence of this increasingly correct theory came this week, when Blanchett stepped out in New York City in this ravishing blue glitter tracksuit by Armani.
Upon first seeing this look, we wanted to immediately run and light our entire closets on fire. There's just no use trying anymore.
Blanchett actually wore it to the Tonight Show Starring Jimmy Fallon.
We hope that this the look we see when we close our eyes never changes.
At the Cannes Film Festival this very month, she was kind enough to show up in multiple killer suits. The first one was this sherbet yellow Calvin Klein suit for day one of Cannes, where she was serving as the grand jury president.
And then there was this divine pink Stella McCartney suit for the festival's first jury photo call.
For a red carpet suit moment, there was this Givenchy jumpsuit (hey, it still counts!), which she wore to a screening.
And then a sleepwear-inspired suit by Loewe, as captured by her fantastic stylist Elizabeth Stewart.
For the festival's closing night, she wore a spin on a men's tuxedo, by Alexander McQueen, which we'd say still counts too.
We are in no way worthy.
According to Stewart, she and Blanchett made an effort to wear as many female designers as possible, with Sarah Burton designing this particular McQueen get-up.
Before Cannes, Blanchett was making her love of pantsuits widely known, like at CinemaCon in April, for which she wore a cream brocade Gucci suit with black detailing.
To the Giorgio Armani show in Milan this past September, she showed up in Armani of course, but rather than go with a more-expected gown or pretty dress, she went for a pinkish plaid suit.
Between the checkered shirt and those sunglasses, we felt off-balance for a good week.
To ComicCon in 2017, she wore yet another plaid suit, this one in a more traditional grey plaid by Monse.
And if you think this affection for suits is new, check out Blanchett at the 2011 Sydney Film Festival and at the Tony Awards in 2010.
Girl is loyal.
Even after all of that, Blanchett is not done giving us suit inspiration. To an Oceans 8 press event in New York just this week, she wore a purple suede (suede!) suit by Ferragamo.
The Oceans 8 cast is one of the most fashionable casts that has ever been assembled, and yet Blanchett managed to shine. Granted, Rihanna was not in attendance, but this is still quite the feat.
Never stop wearing suits, Cate Blanchett. We beg of you.