Southern University set to launch first medical marijuana program at a historically black college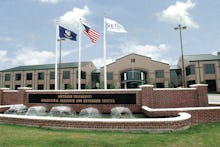 Southern University and A&M College, a historically black university in Baton Rouge, Louisiana, has solidified its stake in Louisiana's medical marijuana industry.
On Friday, the school's board of supervisors approved a contract with Advanced Biomedics, a Louisiana-based company specializing in pharmaceutical-grade marijuana products, to partner on the cultivation and production of medical marijuana at Southern's research facilities.
"This is a momentous event," Bobby R. Phills, chancellor of the Southern University Agricultural Center and dean of the school's College of Agricultural, Family and Consumer Sciences, said in a news release Friday. "We are extremely excited to be able to provide quality medicine for the citizens of Louisiana."
The HBCU and Louisiana State University are the first public universities in the country set to produce and research marijuana at their facilities. Presently, the institutions are the only two legal growers and researchers of medical marijuana in the state.
"This groundbreaking research opportunity will also provide revenue for the University and economic development in North Baton Rouge," Phillis said.
Southern's product will be ready for distribution at Louisiana dispensaries in early 2019. Medical marijuana is legal in Louisiana, but recreational use is still prohibited. Nine pharmacies selected by the Louisiana Board of Pharmacy will be distributing medicinal marijuana as early as this summer.
Under Friday's deal, Southern University Agricultural Research and Extension Center, which will oversee the program, will receive more than $6 million, according the university. Advanced Biomedics can automatically renew its contract with the HBCU for two subsequent five-year periods, unless there is a cause for termination. Southern will receive a $1 million signing bonus with each contract renewal.
The Agricultural Research and Extension Center is one of five campuses in Southern's system, and focuses on livestock and agricultural research and community education, including a leadership program empowering small farmers who have limited resources throughout the South.
Southern University has endured state budget cuts in recent years, making Friday's deal a marker of needed financial progress for the school. In January, the school's president-chancellor, Ray Belton, wrote a letter to university supporters asking them to speak out against Louisiana Gov. John Bel Edwards' proposed $1 billion cut to higher education.
It "would add to the more than $800 million in state cuts we have endured over the past decade," Belton wrote.
According to a 2013 report by the American Civil Liberties Union, black people made up 61% of total marijuana possession arrests in Louisiana in 2010, despite constituting about 33% of the population. Black people were 3.1 times more likely to be arrested than white people statewide. In East Baton Rouge Parish — comparable to a county in another state, and which houses both Baton Rouge and Southern University — black people were 4.6 times more likely, making it the parish with the largest arrest disparity by race in the state.
In some states, like Alaska and California, having a felony conviction on your record can be a hurdle to participating in marijuana businesses. Black people disproportionately have such convictions.
Last week's deal positioned Southern University to join a burgeoning legal cannabis industry estimated to see $40 billion in nationwide economic output by 2021, according to Arcview Market Research — making it a potential beacon for a black populace that often has to fight to carve out room for itself in the industry.
Students will not be allowed to work at Southern's medical marijuana program, but university researchers will work at the facility along with employees hired by Advanced Biomedics to operate the business. Advanced Biomedics will help provide resources to train students in developing medicine from plants other than cannabis through the Southern University Agricultural Center's Institute for Medicinal Plants.
"HBCUs are not in the production aspect of [growing medical marijuana], especially in the training of personnel to do that," Phills told Mic in a phone interview. "So we will have faculty working with [Advanced Biomedics] to learn the techniques of development."
The agreement will also lead to "the establishment of endowed chairs and professorships, partnerships with private organizations and foundations, the strengthening of our academic course offerings, and the purchases of state-of-the-art equipment," Janana Snowden, lead researcher and director of the Institute for Medicinal Plants, wrote in an email. Snowden will be involved in the day-to-day operations of the medical marijuana program.
Advanced Biomedics will next undergo a series of background checks by the Louisiana Department of Agriculture and Forestry before moving forward with construction on a facility for the medical marijuana program in Baker, Louisiana, about 11 miles from Southern University's main campus in Baton Rouge.
Southern University's contract comes almost three years after Louisiana passed Act 261, which made it legal for doctors to prescribe medicinal marijuana to patients in June 2016. The conditions deemed legal for doctors to treat with medical marijuana in Louisiana include cancer, HIV/AIDS, epilepsy, Crohn's disease, multiple sclerosis and PTSD, according to the Louisiana Department of Health.
Under the 2016 law, the state government gave the two land-grant universities, Louisiana State and Southern, the right of first refusal to produce the plant at their facilities. Southern University submitted a letter opting into the program in August 2016, according to the school's website.
At the new facility in Baker, a staff of 40 will be employed to grow, manufacture and distribute pharmaceutical medicines from marijuana, according to university reps. The final product must be in the form of extracts, sprays, oils, pills, lotions, gelatin-based chewables, transdermal patches or suppositories, according to the state law.
According to Phills, the university has received positive feedback from the Southern University community about the medical marijuana program.
"If there is [pushback] I'm not aware of any," Phills said. "Everybody's been supportive. It's an opportunity for Southern University to be part of a service to the inhabitants of Louisiana and everybody's optimistic about it as well as the resources that it will generate."