Trump suggests he'll end "horrible law" separating immigrant families if he gets border wall funding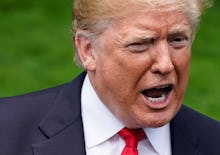 President Donald Trump on Saturday implied he would only end a "horrible law" regarding undocumented immigrant children if Democrats backed his most draconian anti-immigration measures, tweeting that his opponents have been "protecting MS-13 thugs."
"Put pressure on the Democrats to end the horrible law that separates children from [their] parents once they cross the Border into the U.S.," Trump tweeted Saturday morning. "Catch and Release, Lottery and Chain must also go with it and we MUST continue building the WALL!"
Trump appeared to be referring to the practice of immigration authorities separating children from their parents when they are taken into custody at the border, which is being challenged in federal court.
Department of Homeland Security Secretary Kirstjen Nielsen defended the policy in testimony before the Senate Homeland Security and Governmental Affairs Committee earlier this month, saying that "anyone who breaks the law will be prosecuted."
"If you are [a] parent, or you're a single person or if you happen to have a family, if you cross between the ports of entry we will refer you for prosecution," Nielsen said. "You have broken U.S. law."
But critics of the policy, including Sen. Kamala Harris (D-Calif.), have blasted it as "cruel."
The administration's immigration policies have faced renewed backlash in recent weeks following reports that the Department of Health and Human Services lost track of almost 1,500 of the children the agency had referred to sponsors in the United States after they showed up at the border alone.
Homeland Security also refers children separated from their families to Health and Human Services.
Trump has frequently attempted to tie protections for migrant children to his more extreme immigration measures.
He said in a Fox News interview this week that he would not sign legislation protecting "Dreamers" who were brought to the U.S. as children by undocumented parents unless the bill included funding for the border wall he promised during his presidential campaign.
He has also repeatedly bashed Democrats in recent days for "coming to the defense of MS-13 thugs."
"Dems have lost touch!" he said.
Democrats, of course, have not defended members of the notorious gang, but have taken exception to the president's suggestion that undocumented immigrants are "animals."