This week in Trump-Russia news: Trump goes all in on "Spygate"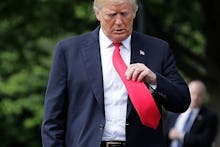 President Donald Trump has a new favorite phrase.
To "witch hunt" and "fake news," he has now added "Spygate" — his term for the FBI's reported use of an informant in the early days of the Russia investigation.
"SPYGATE could be one of the biggest political scandals in history!" he tweeted Wednesday.
Here's what you need to know about Trump's latest anti-FBI conspiracy theory — and how he's using it to try to undercut special counsel Robert Mueller's Russia probe.
Trump accuses Democrats and law enforcement of conspiring against him
Trump latched onto reports last week that an FBI informant had met with two members of his team — George Papadopoulos and Carter Page — in 2016 to investigate Russian ties to the campaign as further proof that Democrats had conspired with federal law enforcement officials against him .
"Starting to look like one of the biggest political scandals in U.S. history," Trump tweeted Thursday. "SPYGATE — a terrible thing!"
Of course, he has provided no evidence to back up his assertions — and it appears that investigators only used the informant after they had already found evidence that Page and Papadopoulos had had suspicious contacts involving Russia.
DOJ briefs lawmakers, Trump lawyer over informant
Nevertheless, the FBI and Department of Justice briefed lawmakers on the matter Thursday, as Trump had demanded.
White House chief of staff John Kelly and Emmet Flood, one of Trump's lawyers, attended at least part of the controversial briefing — which Rep. Adam Schiff (D-Calif.), the top Democrat on the House Intelligence Committee, criticized as "completely inappropriate."
Republicans have yet to say publicly what they heard in the briefing, but Democratic leadership said in a joint statement Thursday that "nothing we heard today has changed our view that there is no evidence to support any allegation that the FBI or any intelligence agency placed a 'spy' in the Trump Campaign, or otherwise failed to follow appropriate procedures and protocols."
McConnell backs Russia probe
Senate Majority Leader Mitch McConnell did not delve into details of the secret briefing, but did tell NPR after the meeting Thursday that he continues to back Mueller's investigation.
"The two investigations going on that I think will give us the answers to the questions that you raise — the [inspector general] investigation in the Justice Department and the Mueller investigation," McConnell told the outlet. "I support both of them, and I don't really have anything to add to this subject based upon the Gang of Eight briefing that we had today, which was classified."
That puts the Kentucky senator at odds with the president, who has continued to bash the Mueller investigation as a "witch hunt" and call for it to be ended.
But while he continues to express support for Mueller, he has also repeatedly refused to support bipartisan legislation to protect the special counsel from being fired or kneecapped by the president.
Cohen talked policy with Russian oligarch
Meanwhile, things continue to look worse for Michael Cohen.
Trump's embattled attorney and fixer — who is under federal investigation for a range of potential crimes, including campaign finance violations related to his Stormy Daniels payout — apparently met with a Kremlin-connected oligarch shortly before the inauguration, the New York Times reported Friday.
In the January 2017 meeting, Cohen and Viktor Vekselberg reportedly discussed improving U.S.-Russia relations under the Trump administration — a revelation that would seem to further demonstrate how the Russia and Cohen investigations appear to dovetail.
The Cohen investigation has appeared to pose a significant threat to Trump since the FBI raided the lawyer under a referral from Mueller in April.
The president's lawyers have warned him that Cohen may flip on him — something that has appeared even more possible since Cohen's close business partner and friend Evgeny Freidman cut a plea agreement with investigators.
The so-called "Taxi King" pleaded guilty to one count of tax evasion and has reportedly agreed to cooperate as a potential witness in state and federal investigations.