The North Korea summit is back on as South Korea says Kim Jong Un is committed to denuclearization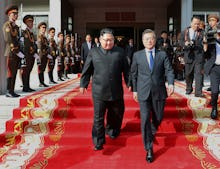 The North Korea summit may be back on again after both North Korean leader Kim Jong Un and U.S. President Donald Trump appeared open to the possibility of keeping their date to discuss denuclearization on June 12. The about-face comes just days after Trump very publicly and abruptly pulled out of the talks, releasing a letter Thursday criticizing North Korea's "open hostility" to the U.S.
Kim met with South Korean President Moon Jae-in Saturday in the wake of Trump's cancellation to discuss how to proceed. Following the meeting, North Korea's state news agency KCNA reported in a statement that it was still Kim's "fixed will" to see the U.S.-North Korea talks take place.
"Chairman Kim and I have agreed that the June 12 summit should be held successfully, and that our quest for the Korean peninsula's denuclearization and a perpetual peace regime should not be halted," Moon said in a news conference Sunday following his meeting with Kim.
After abruptly canceling the North Korean summit Thursday, Trump told reporters Saturday that he, too, was still considering the June 12 meeting.
"We're doing very well in terms of the summit with North Korea," Trump said at the White House Saturday. "It's moving along very nicely. So we're looking at June 12 in Singapore. That hasn't changed. So, we'll see what happens."
The fate of much-hyped June 12 summit has been in limbo in recent weeks. North Korea was the first to waver, threatening on May 15 that the fate of the meeting could be in jeopardy due to the U.S.'s military exercises with North Korea. Trump then preemptively cancelled the meeting Thursday, citing a recent North Korean statement that called Vice President Mike Pence "ignorant and stupid."
Despite the summit's uncertainty, a team of American officials arrived in North Korea Sunday to begin preliminary negotiations over the substance of the summit. The American delegation is being led by former U.S. ambassador to South Korea Sung Kim, and also includes National Security Council Korea specialist Allison Hooker and a Defense Department official.
The outcome of these "practical talks" between the U.S. and North Korea will likely determine whether the June 12 meeting takes place, Moon said Sunday. He added that there may be some points of contention, however; the two sides appear to have differing ideas of what constitutes denuclearization, and North Korea is not convinced that it can trust the U.S.'s guarantees of security for North Korea and Kim's government if it agrees to denuclearize.
"What is unclear to Chairman Kim Jong Un is not the will for denuclearization, but the concern that if [North Korea] denuclearizes, whether the U.S. can end hostile relations and guarantee the security of the [Kim] regime," Moon said.
"I urge North Korea and the U.S. to confirm each other's will by sharing their problems with each other and communicating directly," Moon added.