Howard Schultz: "Discrimination and bias should not be part of the American story"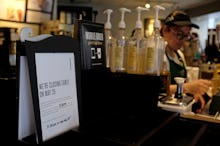 As Starbucks stores prepare to close Tuesday afternoon for a mandatory employee anti-bias training, Starbucks executive chairman Howard Schultz called the moment a "transformational, almost galvanizing opportunity" that he hopes will serve as a "teaching moment for all our people."
Those comments, said during a candid sit-down interview with Mic, come just weeks after the now well-publicized incident in which two black customers were arrested at a Philadelphia Starbucks while waiting for a business meeting.
In response, the company decided to close 8,000 stores in the United States for an afternoon, so 175,000 employees can participate in anti-racial bias training.
"What we've decided to do as a result of Philadelphia is take a step back and realize that there are systemic issues," Schultz told Mic.
"So we decided we were going to close our stores to focus on one thing, and that is to provide our people with new tools and resources and understanding around the sensitivity around racial bias."
The training, developed in partnership with a wide-ranging group of advisers including Bryan Stevenson, Heather McGhee and Sherrilyn Ifill, will consist of a series of videos and group exercises designed to help Starbucks employees combat their racial biases.
Several videos will feature celebrities and leading practitioners in the civil rights field, including rapper and activist Common and award-winning filmmaker Stanley Nelson Jr.
In a preview video, Starbucks executives noted Tuesday's day of training will mark the beginning of an initiative the company will undertake over the course of the year to address forms of bias beyond race.
"The promise of America is based on opportunity," Schultz said. "And, discrimination and bias should not be part of the American story."
Schultz sketched a broad vision for the society he would like to see America become. He also expressed concern about what he believes to be a lack of leadership coming from Washington to get there.
"I think that we are living in a time right now, where it appears that every day, there is another episode that on the surface, moves us closer to divide and vitriolic behavior, as opposed to recognizing that we are all in this together," Schultz said.
"I've got great faith and confidence in the American people, much more so than I have in the political class of the country. And the American people, I think, deserve better."
Watch part of Mic's interview above and watch the full interview with Howard Schultz about Starbucks' nationwide racial bias training at 7 p.m. Eastern Tuesday.