Today in Trump's America: Trump hits the campaign trail to try to save a vulnerable GOP Senate seat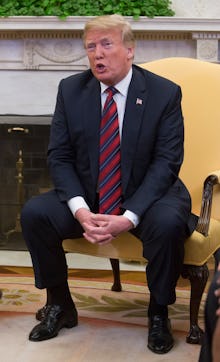 Welcome to Mic's daily read on Donald Trump's America. Want to receive this as a daily email in your inbox? Subscribe here.
Good morning from Emily Singer at Mic.
Here's what's happening in Trump's America:
• It's a quiet day in Washington, with Congress out the entire week after the Memorial Day holiday.
About the weekend: What's in a lie?
Americans may have been taking a break from Twitter to relax and reflect over the Memorial Day weekend, but the president was still tweeting up a storm, including a tweet in which Trump said a member of his staff, who reportedly briefed reporters on background, didn't exist.
"The Failing @nytimes quotes 'a senior White House official,' who doesn't exist, as saying 'even if the meeting were reinstated, holding it on June 12 would be impossible, given the lack of time and the amount of planning needed.' WRONG AGAIN! Use real people, not phony sources," Trump tweeted.
The source, however, does exist. His name is Matt Pottinger, and he gave a background briefing to reporters on a conference call last week, meaning reporters could quote Pottinger's words but not use his name. Reporter Yashar Ali, who was not on the call and thus was not bound by the terms of the background agreement, tweeted Pottinger's name after Trump claimed Pottinger didn't exist. Ali also posted an audio file of Pottinger briefing reporters
The incident set off a fierce debate about whether Trump's tweet was a lie or a falsehood. Some reporters, such as the New York Times' Maggie Haberman and CNN's Brian Stelter, said a lie needs to have intent, and that reporters didn't know whether Trump knew Pottinger briefed the press when he claimed Pottinger didn't exist.
"Trump is a liar, he lies, but not everything he says is a lie," Stelter wrote in his media newsletter Sunday. "We need to distinguish between a deflection, an exaggeration and a straight-up lie, the same way we note the difference between a two-alarm fire and a five-alarm fire."
Do you think Trump's tweet about Pottinger's briefing was a lie? Send us an email at trumpsamerica@mic.com with your thoughts.
Today in Trump's America: Trump hits the campaign trail
The midterm elections are in full swing, and Trump is getting in on the action by hitting the campaign trail Tuesday — a trip that indicates Republicans in typically safe districts are vulnerable this November.
Trump isn't heading to a state he carried in 2016 where Democratic senators are facing re-election in an attempt to sway voters to vote for the GOP. Instead, he is traveling to Tennessee, a deep-red state where Republicans find themselves defending a Senate seat against a Democratic challenger.
The seat is open thanks to GOP Sen. Bob Corker's retirement. Rep. Marsha Blackburn (R-Tenn.) is the likely Republican nominee, but she's struggling against Democrat Phil Bredesen, the state's former governor. Polls show Bredesen is leading Blackburn by a 5-point margin, according to the RealClearPolitics average.
Trump — who carried Tennessee by 26 points in 2016 — hopes he can boost Blackburn's chances in the contest. Blackburn is one of Trump's staunchest defenders, and believes in his hardline immigration policies.
The fact that Trump has to campaign in Tennessee is a sign midterm elections could be challenging for Republicans, even as some polls have shown the generic congressional ballot — which asks voters which party they'd like to see control Congress — is tightening, with Democrats still holding a lead.
Capitol Hill happenings: The last congressional retirement of 2018?
Republican members of Congress have retired in droves this election cycle, as many GOP lawmakers feared a Democratic wave could sink their re-election hopes.
But we may have seen the final retirement of the cycle, after Virginia Republican Rep. Tom Garrett announced he will not run again for his rural central Virginia district. With primaries in full swing, and with most deadlines for candidates to announce their bids in the rearview, Garrett could be the last member to announce their retirement.
Garrett — who is retiring to seek treatment for alcoholism — is now the 44th House Republican to retire this cycle. That's one of the highest numbers of retiring Republican members in recent memory.
Garrett's seat could be competitive. Trump carried the district by an 11-point margin in 2016.
And the rest…
Bronx cheer: Former New York City Mayor turned Trump lawyer Rudy Giuliani got booed by Yankee fans Sunday. Giuliani was at Yankee Stadium to celebrate his 74th birthday.
Migrant crisis: The Department of Health and Human Services is responding to reports that nearly 1,500 immigrant children were lost after they arrived in the U.S. as unaccompanied minors and were resettled. But HHS now says the children are not lost, but merely have sponsors that "have not responded to follow-up calls."