Dua Lipa criticized after promoting an "accessible" fashion collab that doesn't include plus sizes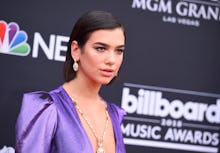 With her affection for bold, colorful, retro-inspired fashion, pop star Dua Lipa is an obvious fit to collaborate with a fashion brand.
So it was no surprise Thursday when she revealed that she will indeed be working with the brand /Nyden, which is owned by H&M, on four different collections, the first of which will launch in the fall.
"My first love is music, but fashion also plays an important role in my life because I believe it's so vital to self-expression," Lipa wrote on Instagram. "I look for clothes that reflect strength and fearlessness, but also match up to today's fast pace."
As soon as the announcement hit the internet, fans started asking questions. "Would the collection be unisex?" one fan asked, to which Lipa responded: "Yes what I've wanted to do with this collection is so that its universal and accessible for everyone."
To that end, another fan asked if the collection would include plus sizes, to which she responded in a now-deleted tweet with: "It goes up to a size 16 U.K.."
That's when Lipa started getting heat from fans who had trouble considering the collections truly "universal" and "accessible," given that it only goes up to a U.K. 16, which translates to a U.S. 14 — often one of the first sizes plus-size brands start at.
Fans pointed out that excluding plus customers isn't a wise business decision either, given their buying power.
Fellow pop star and fashion designer Rihanna was criticized for a similar move in April, when her lingerie line Savage x Fenty advertised that its customers "come in all shapes and sizes." When the brand launched, the largest bra size was a 44DD, and other pieces went up to a 3XL. Though a bra with a band size of 42 and 3XL pieces would fit a plus-size customer, fans were hoping for a larger range of cup sizes and fits.
Quickly though, Savage x Fenty made it known that more sizes are coming.
With Lipa's collection not even launched yet, there's a good chance that /Nyden and Lipa will see this outrage and make some alterations on their own.