Trump, without evidence, accuses Mueller's team of meddling in the midterm elections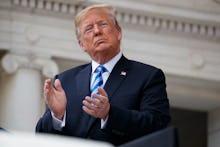 President Donald Trump started the work week by once again rage tweeting about special counsel Robert Mueller's investigation into his campaign's alleged ties to Russia — a probe that has already led to more than a dozen people being indicted on a multitude of charges.
Trump's Tuesday morning tweetstorm about the probe escalated his rhetoric one step further, accusing Mueller's team of doing exactly what Trump's team is being investigated over: meddling in an election.
"The 13 Angry Democrats (plus people who worked 8 years for Obama) working on the rigged Russia Witch Hunt, will be MEDDLING with the mid-term elections, especially now that Republicans (stay tough!) are taking the lead in Polls," Trump tweeted Tuesday morning. "There was no Collusion, except by the Democrats!"
"13 Angry Democrats" is a term Trump is using to refer to the investigators on Mueller's team — though the political affiliation of those involved in the probe is not officially clear.
Of course, there is absolutely zero evidence that Mueller's team is meddling in the midterms. But that didn't stop Trump from making the baseless accusation early on Tuesday.
That wasn't Trump's only tweet about the Russia investigation today. He questioned why Mueller's team isn't still investigating Hillary Clinton, despite the fact that the FBI did in fact investigate the former secretary of state and found there was no case to prosecute.
"Why aren't the 13 Angry and heavily conflicted Democrats investigating the totally Crooked Campaign of totally Crooked Hillary Clinton," Trump tweeted. "It's a Rigged Witch Hunt, that's why! Ask them if they enjoyed her after election celebration!"
After his angry Russia investigation tweets, Trump sent a tweet that suggests he realized he went too far with his angry outbursts.
"Sorry, I've got to start focusing my energy on North Korea Nuclear, bad Trade Deals, VA Choice, the Economy, rebuilding the Military and so much more, and not on the Rigged Russia Witch Hunt that should be investigating Clinton/Russia/FBI/Justice/Obama/Comey/Lynch etc," Trump tweeted.