This tiny village in Italy grows the best pistachios in the world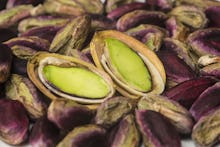 The pistachios grown in the village of Bronte, in Sicily, are known to Italians as "green gold." And the moment you bite into an arancino at an old-school local bar, it's easy to see why. There's a crispy breadcrumb crust, then a béchamel pistachio pesto thickly woven around every rice grain. Pistachios are the star here — because they're the best in the world.
Bronte is located on the eastern side of Sicily, 25 miles west from the heart of Mount Etna. Eruptions over the years have yielded a topsoil dense in mineral-rich lava stone, considered by agronomists to be the holy grail of healthy, fertile soil and ideal for growing nutrient-demanding crops such as coffee.
Relatively unknown, Bronte produces barely 1% of the world's pistachios. But once you taste these bold, sweet distinct cousins of the cashew, you understand why pistachios from Bronte have a reputation. This is the only pistachio in the world grown on Sicilian volcanic soil, which gives it a unique quality.
Bronte's pistachios are plump and bright green with a purple skin. They taste sweet, savory and earthy, and are robust in natural oils. One of Bronte's most prominent growers, Laura Lupo of A Ricchigia, operates a small factory that produces pistachio-based specialty foods. She explained that "lava stone creates a soil rich in minerals and salts," adding, "it is this terroir which makes our pistachios unique." Lupo is well-known in the pistachio world, regularly participating in gourmet fairs and distributing her artisanal goods around the world.
Pistachios are found in many traditional desserts: sprinkled on butter cookies or chopped and speckled at the ends of ricotta-filled cannoli. Bakers and confectionaries keep dentists in business with sticky, syrupy brittles and candy-coated pistachio confetti. Recently, pistachios have found their way into finely processed pastes and creams for making gelato or filling puff pastries and holiday cakes.
The harvest work is earnest. Workers precariously navigate craggy lava rocks in balmy late summer days under rain or scalding sun to tussle through wiry foliage, picking drupes one by one, for nearly a million kilos of raw material in a good harvest. Wearing sturdy mountaineering shoes, they work until all are strenuously picked, because this is the village's main economic lifeline.
"Harvest quantity varies depending on the pollination period in late April," Antonio Zingali, a Bronte municipality official, said, explaining warm weather at pollination period is key. "In 2017 there was a cold snap which resulted in half of the fruit collected compared to 2015's favorably warm season." The dependence on specific environmental factors, combined with increased labor of harvesting by hand, is what leads this pistachio to be about four times more expensive than counterparts grown in other parts of the globe, notably Iran and California. Above all, their taste gives them notoriety. Bronte pistachios are sweeter, notably more bold and higher in flavorful oils than the rest.
Bronte's relationship with these little nuts goes back to the first century A.D. "Pistachios were more than likely introduced to Bronte by the Romans, who brought the plant from the Middle East," Zingali said. However, it was the two-and-a-half-century Arab rule in Sicily, beginning in the ninth century, when its cultivation was amplified.
Up until 10 years ago, the town harvested and packaged whole raw pistachios mostly for export or to be sold to locals for patisserie goods and general snacking. Then, local growers banded together to spearhead a consortium to promote their green gold. They registered it as a product with a protected designation of origin in 2009, creating the market for Bronte pistachio-based gelato, pastas made from pistachio flour, sweet pastes, savory pesto, frozen granita and filled arancini.
Now, arriving in Bronte, you'll find signs welcoming visitors to the city of the pistachio: It's the village's principle economic driver and attracts visitors with an annual pistachio festival held in the fall. Most coffee bars compete to sell the best pistachio gelato and cookies. Stores along the countryside sell jars of salty-sweet Nutella-like pistachio paste, chunky pistachio pesto steeped in bright olive oil and thick, boozy, sweet pistachio after-dinner liqueurs. Bars and bakeries are colored with an array of deep green baked goods tightly displayed on steel trays behind cases and bags of purple and green pistachios.
Bakeries have a dizzying array of speckled green cookies, some resembling Almond Roca, but made from pure ground pistachio. Some bars are stocked with bowls of shelled nuts to be picked at with a pre-dinner Italian aperitif. Another proud specialty around these parts is croccantino — pure pistachio brittle. Bar Sport Saitta is one of these humble spots that locals swear has the best croccantino, pistachio arancino and bonafide pistachio gelato.
As you enter Lupo's laboratory off of Bronte's narrow streets, you'll smell permeating wafts of toasted pistachios and almonds. Her factory churns out these artisanal specialties made from almonds and pistachios grown both locally, domestically and internationally. The Bronte pistachios found under her line are supplied exclusively from the pistachios grown from her family farm, as well as her husband's farm.
Bronte pistachios are sweeter, notably more bold and higher in flavorful oils than the rest.
Lupo has collaborated with world-class chefs like Carlo Cracco and Massimo Bottura, supplying them with her green gold for special cooking events. Even for famous chefs, the Bronte pistachio holds prestige. The high price tag when purchased outside of Bronte (due to shipping and import taxes) make them unfit for daily use in their high-end restaurants, and they are instead saved for a show or event.
If you can't make it to Bronte, you can find these pistachios at specialty purveyors such as Eataly in North America, specialty shops around Europe and in select countries in Asia like Thailand and Japan. Just make sure to read the label carefully to confirm what you are buying is 100% Bronte product. The green gold is available throughout the world — at a price — but only in Bronte are pistachios found generously in everything, even humble street food like fried arancini.
Coral Sisk is a sommelier and food and wine tour guide in Italy.