Roseanne Barr tweets racist jab at ex-Obama aide Valerie Jarrett, then says she's "leaving Twitter"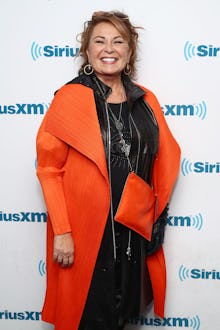 Update: ABC announced it has canceled Roseanne in the wake of Roseanne Barr's racist tweet. The original story follows.
Roseanne Barr is at the center of yet another PR disaster.
Barr tweeted Tuesday morning about Valerie Jarrett, a senior adviser to former President Barack Obama. The controversial comedian and actress — who's been a fixture in the news as of late, in part due to ABC's revival of her classic sitcom Roseanne — described Jarrett, who is black, as though the "Muslim Brotherhood & Planet of the Apes had a baby."
Shortly thereafter — possibly after receiving an angry call from an ABC representative, but who's to say — Barr deleted the tweet and issued two follow-ups.
"I apologize," she wrote. "I am now leaving Twitter."
But before doing so, Barr tweeted once more.
"I apologize to Valerie Jarrett and to all Americans," she added. "I am truly sorry for making a bad joke about her politics and her looks. I should have known better. Forgive me — my joke was in bad taste."
Comedian and actress Wanda Sykes, who was working on Roseanne as a consulting producer, later tweeted she would not be returning for the show's second season.
Barr's costar Sara Gilbert, who plays Roseanne Conner's daughter, Darlene, also weighed in, calling Barr's tweet about Jarrett "abhorrent."
"Roseanne's recent comments about Valerie Jarrett, and so much more, are abhorrent and do not reflect the beliefs of our cast and crew or anyone associated with our show," Gilbert tweeted. "I am disappointed in her actions to say the least."
"This is incredibly sad and difficult for all of us," Gilbert added in a follow-up tweet, "as we've created a show that we believe in, are proud of and that audiences love — one that is separate and apart from the opinions and words of one cast member."
This is just the latest example of Barr's unsavory Twitter habit, which often includes spreading false conspiracies. In March, she apparently tweeted that Parkland shooting survivor David Hogg performed a Nazi salute at the March for Our Lives rally. This was a regurgitation of a widely discredited conspiracy theory peddled by far-right sites like InfoWars. Barr had tweeted many other far-right ideologies before that, as noted by the Washington Post.
Barr's conservative views aren't limited to her Twitter persona. In fact, a central conceit of the Roseanne revival revolves around her conservative politics. In one widely criticized episode, Barr's character — who is partly based on Barr's own personality — suspects her Muslim neighbors of building a bomb.
Following the high ratings of the revival's first episode, President Donald Trump personally called Barr to congratulate her.
May 29, 2018, 2:13 p.m.: This story has been updated.