Wanda Sykes "won't be returning" to 'Roseanne' after Roseanne Barr's racist tweets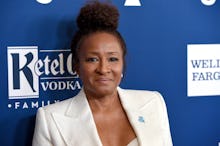 Update: ABC announced it has canceled Roseanne in the wake of Roseanne Barr's racist tweet. The original story follows.
Wanda Sykes has had enough with ABC's Roseanne revival.
The 54-year-old comedian and actress tweeted Tuesday that she would not be returning to her job as a consulting producer for Roseanne's next season. Sykes' announcement came just a short time after the show's star, Roseanne Barr, tweeted a racist jab at ex-Obama aide Valerie Jarrett, saying Jarrett looked as though the "Muslim Brotherhood & Planet of the Apes had a baby."
After Sykes' announcement, Roseanne actress Sara Gilbert — who plays Roseanne Conner's daughter, Darlene — tweeted that Roseanne Barr's comments about Jarrett were "abhorrent."
"Roseanne's recent comments about Valerie Jarrett, and so much more, are abhorrent and do not reflect the beliefs of our cast and crew or anyone associated with our show," Gilbert tweeted. "I am disappointed in her actions to say the least."
"This is incredibly sad and difficult for all of us," Gilbert added in a follow-up tweet, "as we've created a show that we believe in, are proud of and that audiences love — one that is separate and apart from the opinions and words of one cast member."
Barr, the cast member to whom Gilbert is referring, has a habit of peddling right-wing conspiracies — including Pizzagate — on Twitter, according to the Washington Post.
Despite high viewership of the ABC revival's first season, which wrapped up May 22, its critical reception hasn't been as positive. The show has received pushback from some critics, like the New Yorker's Emily Nussbaum, who argued that many of the show's jokes have racist overtones.
In one episode, Dan Conner (played by John Goodman) refers to two other ABC comedies, Black-ish and Fresh Off the Boat, as "shows about black and Asian families." In another episode, Barr's character, Roseanne Conner, suspects her Muslim neighbors of building a bomb.
Earlier in May, Roseanne showrunner Whitney Cummings announced she would not be returning for the revival's second season, either — though it didn't immediately appear to be due to ideological clashes. On May 18, Cummings blamed "work commitments and [her] tour schedule" for her decision.
Mic has reached out to Sykes' representative for comment and will update this post with any response.
May 29, 2018, 2:13 p.m.: This article has been updated.