ABC cancels 'Roseanne' reboot following Roseanne Barr's racist Twitter outburst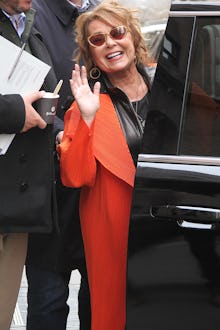 The ABC revival of Roseanne is officially over — and the fault lies with Roseanne Barr herself.
On Tuesday, ABC announced it had canceled the reboot just a few hours after Barr tweeted a racist jab about Valerie Jarrett, who served as an adviser to former President Barack Obama. Barr described Jarrett, who is black, as though the "Muslim Brotherhood & Planet of the Apes had a baby." Barr later apologized and said she would be "leaving Twitter."
"Roseanne's Twitter statement is abhorrent, repugnant and inconsistent with our values, and we have decided to cancel her show," a statement released by ABC president Channing Dungey said. Robert Iger — CEO of Disney, which owns ABC — tweeted Dungey's announcement of the cancelation, saying it was "the right thing" to do.
It's unclear why ABC did not take action after a number of Barr's earlier tweets, such as when she allegedly said Parkland shooting survivor David Hogg performed a Nazi salute at the March for Our Lives rally.
After Roseanne's cancelation, the fallout continued. Talent agency ICM Partners, who represented Barr, released a statement saying it was severing ties with her, according to Variety. Viacom announced it would be canceling scheduled reruns of Roseanne on three of its channels: Paramount Network, TV Land and CMT, according to the Hollywood Reporter.
Before the announcement of Roseanne's cancelation, Wanda Sykes, who worked on the show's first season as a consulting producer, said she wouldn't be returning for its second season.
Barr's co-star, Sara Gilbert, who plays Roseanne Conner's daughter Darlene, also called Barr's comments "abhorrent."
"Roseanne's recent comments about Valerie Jarrett, and so much more, are abhorrent and do not reflect the beliefs of our cast and crew or anyone associated with our show," Gilbert tweeted. "I am disappointed in her actions to say the least."
"This is incredibly sad and difficult for all of us, as we've created a show that we believe in, are proud of and that audiences love — one that is separate and apart from the opinions and words of one cast member," she said in a follow-up tweet.
May 29, 2018, 5:26 p.m.: This story has been updated.