Missouri GOP Gov. Eric Greitens resigns after sexual misconduct scandal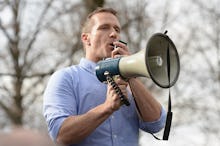 Missouri Gov. Eric Greitens, once a rising star in the Republican Party, has announced his resignation just weeks after his indictment on two counts of felony computer tampering.
At a news conference Tuesday afternoon, Greitens denied the allegations against him but said it had become too difficult for him to continue in the job.
"I have not broken any laws, nor committed any offense worthy of this treatment," Greitens said. "This ordeal has been designed to cause an incredible amount of strain on my family. ... I cannot allow those forces to continue to cause pain and difficulty to the people that I love."
Greitens' resignation goes into effect at 5:00 p.m. Central time Friday.
Greitens was arrested in February and indicted on a felony count of invasion of privacy, a charge that was later dropped. He was alleged to have taken nude or partially nude photos of a woman with whom he was having an affair in 2015.
The governor is also accused of misusing a list of donors to a veterans charity in order to fundraise for his own gubernatorial bid in 2016. The next hearing in the case is set for July 2.
Greitens initially vowed to stay in office. But the political pressure became too much, and Republicans started to worry the scandal would weigh on the upcoming midterm elections, including the race between likely GOP nominee Josh Hawley and incumbent Democratic Sen. Claire McCaskill.