Trump jabs Jeff Sessions over Russia recusal, says he regrets appointing him attorney general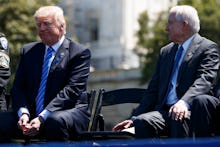 President Donald Trump said on Twitter Wednesday that he wished he picked someone other than Jeff Sessions to run the Department of Justice, intensifying his long-running beef with the attorney general over his decision to recuse himself from the Russia investigation.
In a three-part tweet, Trump quoted comments made by Rep. Trey Gowdy (R-S.C.) on Fox News in which he defended the president's "frustration" with Sessions. The former Alabama senator was one of Trump's earliest and most ardent supporters.
"There are lots of really good lawyers in the country; he could have picked somebody else," Gowdy said.
"And I wish I did!" the president wrote.
Trump has spent nearly a year attacking Sessions over his decision in March 2017 to recuse himself from matters related to the Russia investigation. His comment Wednesday, however, is perhaps his most direct public statement expressing regret over picking him.
The tweets came on the heels of a New York Times report Tuesday evening about Trump's anger over Sessions' recusal — and special counsel Robert Mueller's interest in the president's attempt to get his attorney general to reverse his decision.
Sessions handed the reins of the Russia investigation to deputy attorney general Rod Rosenstein in 2017 over revelations about his undisclosed contacts with then-Russian ambassador Sergey Kislyak.
Trump directed White House counsel Don McGahn to lobby Sessions not to recuse himself, according to the Times report, and during a dinner at Mar-a-Lago apparently attempted to persuade Sessions to reverse his decision.
His confrontation with Sessions is reportedly being examined as part of Mueller's inquiry into possible obstruction of justice on the part of the president.
Trump has reportedly groused about Sessions' loyalty and for failing to provide adequate protection from investigators — and may have even attempted to get rid of him last summer, the Washington Post reported in February.
The president's jab at Sessions Wednesday echoes comments he made to the Times in an explosive interview in July 2017 in which he said, "Sessions should have never recused himself, and if he was going to recuse himself, he should have told me before he took the job and I would have picked somebody else."
During his tenure as attorney general, Sessions has been a key enforcer of the president's hardline immigration policies. But the former Alabama senator has also been at odds with Trump over the probes into Russia and about Michael Cohen — the president's longtime attorney and fixer. Trump and his allies have spent months warring with federal law enforcement, saying it's operating a politically motivated "witch hunt."
In April it was reported Trump was considering replacing Sessions with Scott Pruitt, the scandal-plagued Environmental Protection Agency head. But Trump pushed back on those reports, calling the media "dishonest and corrupt."
May 30, 2018, 12:39 p.m. Eastern: This story has been updated.