Exclusive: Blair St. Clair opens up about her DUI, subsequent sobriety and surviving sexual assault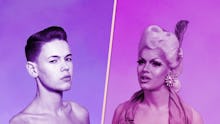 Before ever appearing on RuPaul's Drag Race, before even being announced as a contestant on the show's 10th season, Blair St. Clair — whose given name is Andrew Bryson — made headlines in October for her DUI arrest.
"Even after that, I didn't think that I had a problem with drinking," St. Clair said in an exclusive sit-down interview with Mic. "Now being much older, more educated or knowledgeable, I recognize how many faults I had in that with putting other people's lives in jeopardy, with taking risk of my own life and breaking the law."
St. Clair said one of the most difficult parts of the ordeal was arriving home after filming Drag Race and seeing friends repost the TMZ article detailing the arrest. "I didn't really know what was going on, and then everyone else was placing their own judgment on me," St. Clair said. "The person that can truly judge me at the end of the day is me, and it's no one else's business."
A combination of the arrest and subsequent news coverage led St. Clair to sobriety.
"I finally decided to look at my life as a means for loving myself," St. Clair said. "I didn't recognize and I didn't know and I didn't understand for such a long time that I was not in a place of loving myself for so many things that have transpired in my life. It's allowed me to gain a little perspective of, 'Hey, I have a long journey to continue growing, of loving myself. But I can start by doing a few things today to get to where I want to be in life.'"
St. Clair also addressed her experience with sexual assault, a conversation that first arose during episode six of Drag Race's current season.
"Before filming the show, I had never opened up and talked about that and it's because it was something that I didn't want to believe," St. Clair said, describing her decision to reveal the experience to RuPaul, the judging panel and her fellow queens in an emotional moment on the runway.
St. Clair said the scariest part was admitting to both herself and the world that someone had hurt her — and feeling like "less ... of a gay man" as a result.
"I felt there was something wrong with me for such a long time because I didn't feel the need to be an oversexualized gay man in an oversexualized community that we live in, and I felt very odd," she added. "I felt very out of place and I felt very resentful toward people that were."
And though St. Clair is now using her platform to speak out, she's still actively working through the pain of her past.
"Just because I stand up and tell you today that I've experienced trauma in my life, that doesn't mean that I'm OK tomorrow," she said. "It means I've accepted it and I'm taking the first step and finally gaining healing. It means that I am officially and finally ready to take control of that aspect of my life and recognize that I have control of my myself today. I might not have control of that situation. I might not have control of what happened to me in the time, but I can't live there anymore. I live in today."
Watch the full interview here: