Howard Schultz explains why Starbucks stores closed for racial bias training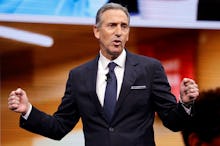 As Starbucks stores across America closed on Tuesday afternoon for employees to participate in a mandatory racial bias training, the company's executive chairman Howard Schultz called the program a historic initiative and said he hopes fellow corporate and public leaders will follow suit.
"No company has ever trained, or tried to educate and train, almost 200,000 people not on their core product, but on a social issue," Schultz told Mic in an interview. "As business leaders or corporations, we're living in a time that I think demands more responsibility from us than just writing a check or issuing a press release."
The day of training, which affected 175,000 Starbucks employees in 8,000 U.S. stores, comes in response to the highly publicized incident in April in a Philadelphia store, where two black customers were arrested and accused of trespassing while waiting for a business meeting.
The incident prompted #BoycottStarbucks protests across the country and sparked a national dialogue around racial profiling and the everyday incidents of racial bias experienced by black Americans.
The news of Starbucks' training has been ridiculed by some critics who dismiss the initiative as public relations ploy.
Schultz, who grew up in a housing project in Brooklyn, New York, before becoming CEO of Starbucks, dismissed those concerns and said his personal background played a major role in his decision to respond to the Philadelphia incident with the program to address unconscious racial bias.
"I carry with me those scars and vulnerability, and to a degree, the shame of what it meant to be that poor kid on the other side of the tracks, living in the projects," Schultz said. "I'm highly sensitive to anyone, regardless of race or sexual orientation or their ethnic background, to feeling not enough or feeling second class or just God forbid not feeling welcome in a Starbucks store."
Mic sat down with several members of the team who helped design the training, including Jen Randle of SYPartners, which works on human-led transformations for companies, as well as Alexis McGill Johnson and Rachel Godsil from the Perception Institute, which does research on implicit and explicit bias.
Over the course of four hours, the training took Starbucks employees through a series of videos and group discussions designed to help them recognize and address their unconscious biases in the workplace.
"There are a number of exercises that have been designed by professionals to take you through different situations and incidents that could provide insight and perspective about the need for compassion, empathy and to walk in other people's shoes," Schultz said.
Schultz said he believes the day of training marks the first step in what he's hoping will be a deeper global commitment by Starbucks to play an active role in these conversations.
"It is true that people of color in America today are feeling a level of insecurity that they have not felt in a long time," Schultz said.
"I view this the same way I view coffee. This will be an integral part of [the company]."
For Mic's full interview with Schultz, watch above.