Trump lawyer Michael Cohen and Stormy Daniels' attorney poised for federal court showdown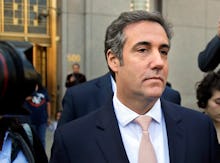 Attorneys for President Donald Trump's personal lawyer, Michael Cohen, are headed to federal court Wednesday to try and block Michael Avenatti — the lawyer for porn actress Stormy Daniels — from intervening in the federal investigation into Cohen.
In a May 18 court filing, Cohen alleged Avenatti was violating the "New York Rules of Professional Conduct" for lawyers and creating a "carnival atmosphere."
"Mr. Avenatti appears to be primarily focused on smearing Mr. Cohen publicly in his efforts to further his own interest in garnering as much media attention as possible," Cohen's lawyers wrote in their request to keep Avenatti away from the case.
Cohen's team further claimed that Avenatti's release of financial documents revealing Cohen was paid by major U.S. companies and foreign governments for consulting services should also bar him from the case.
Meanwhile, Avenatti has asserted that Cohen and his legal team are leaking audio recordings related to Daniels that were seized in the FBI raids on Cohen's home and office.
"We think that these select leaks are meant to paint a false narrative relating to Mr. Cohen and his business dealings at the same time he is not disclosing numerous other recordings of him speaking with individuals such as Mr. Trump," Avenatti wrote in a letter to Judge Kimba Wood, who is presiding over the case.
There will also be an update Wednesday on whether documents seized during the raid are privileged communications. That process is being overseen by former judge Barbara Jones, whom Wood appointed "special master" in the matter. Federal prosecutors have already received more than 292,000 documents so far, with Cohen, Trump and the Trump Organization claiming that 252 documents are privileged.
Jones is set to release more than 1 million additional items to federal prosecutors Wednesday, according to the Washington Post.