The current state of transgender male models in fashion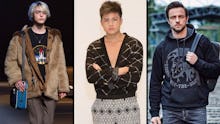 "Miniscule." "Untapped." "Stagnant." "A little lonely." These are just a few words models and fashion industry figures have used in interviews with Mic to describe the current state of transgender male modeling.
While there's now quite a few popular transgender female models out there, including Teddy Quinlivan who walked in 27 shows during the last fall fashion month or Leyna Bloom, who became the first out trans model of color to appear in Vogue India, transgender male models have made far less inroads.
During this past New York Fashion Week for menswear, there were very few appearances by out transgender male models, with one notable exception being Chella Man, the 19-year-old genderqueer, trans-masculine presenting artist and model who appeared in the Asos presentation.
"From the resistance of some to open their minds and hearts to pure oblivion regarding diversity, we have a tall mountain to climb," Man said in a recent interview. "But we are making progress."
That progress has been seen just slightly at New York Fashion Weeks previous, where Casil McArthur has walked for Marc Jacobs in February 2017 and in Coach's menswear show in December 2016. He's also appeared in campaigns for Kenneth Cole.
But even he hadn't heard of any trans male models before he started modeling as a man himself. "That was demoralizing because it was like well, is there a place for me in this industry if I transition?" McArthur said in an interview. "That's probably what a lot of trans men are feeling right now, but I do feel like the industry is making room."
Despite numbers that pale in comparison to transgender female models, it does feel like there is hope on the horizon and the industry is making room. So why has it taken this long for these models to get any kind of attention from the fashion industry? The models themselves are a bit baffled.
Benjamin Melzer, a model who's appeared in campaigns for Diesel and PETA and made history as the first trans model on the cover of German Men's Health, said that perhaps the industry is wary of changing the status quo.
"Maybe it's the old thinking, never change a winning team?" Melzer said in an interview. "It worked well for so many years and probably people are scared or cautious with topics they have no clue about. It's on us to inform and educate. It's on us to pave the way for the younger ones."
What could also be having an effect, according to McArthur, are the body standards male models are held up to.
"I feel like the body standards for male models play a big role in trans men not being around in the industry," McArthur said. "It takes a while for us to get that masculine physique that is sought after so much in the modeling industry. It's either super muscular or super frail boys and for a trans man that's transitioning, that's a super hard thing to keep up with because the puberty you go through — it fucks up your body for a good while."
Cecilio Asuncion, the director of Slay Model Management, which focuses on transgender models, thinks ignorance and general confusion from the industry has played a part as well.
"Awareness needs to change," Asuncion said in an interview. "It's not their job to tell us what they are. It's our job to respect them and believe in their capabilities. That comes from the top, whether you're a casting director or a company. You have to be hungry to find out more about them."
No one in fashion having major conversations about them and their talent was a challenge transgender female models definitely faced.
"I want this to be the year when everyone notices them and finally thinks, yeah, they are beautiful," Asuncion said. "They're next, they need to be talked about. They're just as talented."
"They're next, they need to be talked about. They're just as talented."
That's proven to be true for trans female models, and is surely true for trans male models.
McArthur got that Cole campaign. Melzer got that Men's Health cover. Laith De La Cruz made history as the first trans cover star of Attitude magazine. The momentum is building, and will surely be helped along with one more thing: the models themselves telling their stories.
"Our stories need to be told," Man said. "I can only hope this will suffice for individuals in the industry to open their life to inclusivity out of educated respect and compassion, not because they view diversity as a trend."
These models are ready, with big dreams ready to come true.