Snapchat wants Facebook to copy its privacy practices, but Snap shares data with advertisers too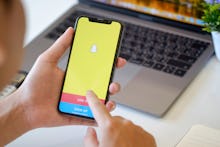 Snapchat's had to endure Facebook stealing some of its most novel features. Though if you ask Snap's CEO, he's surprised Facebook has chosen not to copy Snapchat's privacy practices yet.
Snapchat achieved popularity early on by offering a simple feature: letting users share photos and videos that delete themselves after 10 seconds. The app became so popular that it gained the attention of (and began stealing young users away from) Facebook. After failing to purchase the company, Facebook copied many of the app's most novel features. Stories (content that lasts for 24 hours) came to the Facebook-owned Instagram in 2016 and then Facebook itself in 2017. The social network king has also ripped off other Snapchat signatures like screenshot alerts, face filters and "streaks," with more copied features potentially on the way. So how does the Snapchat CEO feel about Facebook ripping them off?
"We would really appreciate it if they copied our data protection practices also."
In a recent interview with Recode, Evan Spiegel fired shots at Facebook near the 26 minute mark. Spiegel was likely referencing the idea that Snapchat was built on: photos and videos that automatically erases themselves. But does everything we pour into Snapchat get deleted? What gets shared with Snapchat's unnamed partners?
Snapchat's support pages offer a relatively easy-to-read (with helpful emoji!) version of a privacy policy, indicating which content and data gets deleted and which is kept in the cloud. It explains, for example, how photos and videos saved to Memories get stored on Snapchat's cloud (Google servers, to be specific), as do favorite locations you've saved in the Maps (for up to 40 days). Snapchat's more wordy privacy policy offers even more info about how the company shares data with other companies.
According to its "How We Use Your Information" page in the Provide Relevant Ads section, Snapchat can use information it learns about you to serve ads. It also talks to ad companies to learn what they know about you. For example, a movie ticket seller can let Snapchat know which movies you've already seen so it can sell ads for a different flick. Snapchat isn't clear about what data it gives advertisers exactly, saying instead that it shares "some of the information we learn about you." The "Information We Collect" section of the privacy policy page notes that this could include your GPS info, data from your Photos app and even information from your device's contacts app.
In a statement sent to Mic, Snapchat clarified saying that they do not collect information on ethnicity, sexuality, or political allegiance. The company also does not share any user-identifiable information. This does not include things like your name, username and profile pictures which they share with business partners, according to their policy.
We've reached out to Snapchat for comment on how personal data is shared with other companies and will update this post when we receive word.
It's likely that Facebook will continue to clone Snapchat features in an effort to beat the company at its own game. But while Snapchat gives up some of its users' data in the same ways, its culture of delete-by-default and easily understandable privacy pages might be the most important features Facebook could ever lift from the service in a post-GDPR world.
May 31, 2018, 4:25 p.m. ET: This story has been updated