Texas Gov. Greg Abbott calls for armed teachers in wake of Santa Fe mass shooting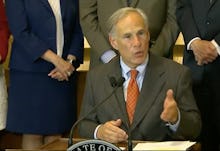 After a shooting on May 18 that killed 10 students and faculty members and injured others at Santa Fe High School in Texas, Texas Gov. Greg Abbott announced Wednesday a 40-page plan aimed at making schools in the state safer.
"Students want armed teachers," Abbott told reporters assembled for the press conference inside the Dallas School District's headquarters. He recommended adding more armed guards, marshals and teachers to schools in an effort to deter would-be shooters.
The list of 40 recommendations, compiled by Abbott and his staff, also includes reducing the number of schools entrances and instating new restrictions for safe gun storage. Parents would be held accountable if minor children 17 or under, the same age as the Santa Fe shooting suspect, were able to obtain their legally owned firearms, according to the recommendations.
Abbott, who has an "A" rating from the National Rifle Association, has been historically pro-gun during his time in office, signing both an open carry and a campus carry bills into law in 2015 after taking office. However, in the immediate aftermath at Santa Fe High School — during which the suspected shooter, junior Dimitrios Pagourtzis, used his father's shotgun and pistol to shoot people in a first-period art class — many of Abbott's constituents in Texas have joined the growing national chorus of voices calling for gun restrictions. Pagourtzis has been charged with capital murder and remains in jail without bond.
In the two weeks that followed the shooting, Abbott conducted a series of "roundtable discussions," where he sought the opinions of community members, school officials, survivors of mass shootings and both pro-gun and gun reform groups.
Texas lawmakers are not due to return to session until January, per the state's odd-year-only legislative schedule. Abbott's plan was divided into both legislative items and more immediately implementable actions, like allocating more state dollars to mental health resources.
To that effect, Abbott said Wednesday the state will funnel an additional $20 million into an already-existing program designed to prevent violent incidents by flagging and providing mental health screenings for at-risk students.
Avery Gardiner, the president of the Brady Campaign to Prevent Gun Violence, said in an interview with Mic conducted as Abbott was holding the roundtable discussions, said she was tentatively optimistic that Abbott had taken the "small step" to seek out the opinions of Texans. But in a statement issued shortly after his announcement on Wednesday, the Brady Campaign sharply criticized the 40-point plan, calling for "more rather than fewer guns in schools."
"The answer to preventing school shootings isn't some deep-seated secret. It's guns," said Kris Brown, co-president of the Brady Campaign. "It's the fact that it's frighteningly easy for dangerous people to get access to a gun, and this proposal does little to stop that."