Trump responds to 'Roseanne' cancellation with tweet about his own treatment by ABC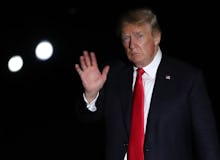 President Donald Trump has finally responded to Roseanne's cancellation, but not in the way anyone expected.
Trump didn't condemn Tuesday's racist comment by the show's star and namesake, Roseanne Barr, who compared former Obama adviser Valerie Jarrett to an ape on Twitter. Instead, he complained about how the CEO of Disney, which owns ABC, apologized to Jarrett but failed to apologize for comments made about him on the network.
"Bob Iger of ABC called Valerie Jarrett to let her know that 'ABC does not tolerate comments like those' made by Roseanne Barr," Trump tweeted Wednesday morning. "Gee, he never called President Donald J. Trump to apologize for the HORRIBLE statements made and said about me on ABC. Maybe I just didn't get the call?"
It's unclear what comments Trump was referring to, but considering his contempt for the press and his categorization of any unfavorable news about him as fake, it's possible he just means ABC's coverage of his administration in general.
Either way, Trump took the moment to make himself a victim rather than calling out Barr's explicit bigotry.
The fact Trump commented about the Roseanne drama at all is notable, given that White House press secretary Sarah Huckabee Sanders said Tuesday the the president was too focused on important matters to comment on the show's cancellation.
"That's not what the president is looking at. That's not what he's spending his time on," Sanders told reporters who traveled with Trump on Air Force One to a campaign rally in Tennessee.