School shooter simulation video game is pulled after outrage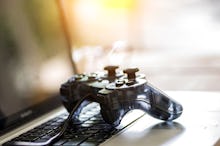 A video game that would allow players to play as an active shooter at a school has been removed from the platform where it was set to be released in June after a strong backlash to the game.
The game, titled Active Shooter, was scheduled for a June 6 release date on Steam, an online video game retailer, CNN reported on Tuesday. Active Shooter would reportedly allow players to choose whether they wanted to play as a SWAT team member responding to a shooting at a school, or as the shooter themselves. The game was developed by Revived Games and published by Acid, a Russian gaming company, CNN reported.
News of the game spread quickly as parents of children killed in real-life mass shootings spoke out. Ryan Petty, whose daughter Alaina was killed in the February mass shooting at a high school in Parkland, Florida, urged his followers to speak out against the game, calling it "despicable" and "unacceptable."
Fred Guttenberg, whose child Jaimie was also killed in Parkland, tweeted that the Active Shooter game was "one of the worst" things he had seen in the months since his daughter's death, and added, "This company should face the wrath of everyone who cares about school and public safety and it should start immediately."
More than 200,000 people signed an online petition urging Valve Corp., Steam's parent company, not to release the game.
On Wednesday, the Associated Press reported that Valve was pulling the game from its platform. In a statement to CNN, Valve spokesperson Doug Lombardi said that the developer behind Active Shooter had been banned from Steam already, while operating under a different name. Lombardi called that developer "a troll, with a history of customer abuse, publishing copyrighted material, and user review manipulation."
Lombardi added that Valve planned to have further conversations about the policies that regulate content on Steam. As Variety reported, Steam has a program that allows anyone to release a video game for a $100 fee, but that it does have guidelines in place forbidding hate speech, pornography and "adult content that's not appropriately labeled."
According to Variety, the Active Shooter game had originally been posted on Steam with a disclaimer that read, "Please do not take any of this seriously. This is only meant to be the simulation and nothing else. If you feel like hurting someone or people around you, please seek help from local psychiatrists or dial 911 (or applicable). Thank you."