Kayak's new tool wants to solve one of the biggest problems in travel: planning a group trip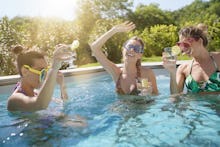 Going on vacation with a group of friends sounds like a ton of fun — until the planning starts. You know once the trip actually happens, the logistical work will (probably) be worth it. But between your "easy-going" friend, the one who suddenly has an impossibly small budget and the critic who hates every suggestion but offers no solution, the process can feel equal parts paralyzing and never-ending.
On Thursday, Kayak rolled out a new tool called Trip Huddle, meant to remedy the most painful aspects of group getaways. The technology is like a more expansive and nuanced version of Doodle. The trip organizer — probably the most Type A member of the group — kicks it off with a few options for destinations, date ranges and accommodations. Attendees then vote on their favorite options (there's a three-heart ranking system to rank your preferences), and can add additional options for each.
Ultimately, the major benefit of the tool is the way it accommodates everyone's schedules and preferences — and the way it clearly displays them all in one place (as opposed to a too-long email chain). And users aren't locked into places that can only be booked on Kayak — there's an option, for example, to add Airbnbs into the accommodation list.
But there are a few additions that could certainly up the ante: If the tool went a step further and helped travelers book the actual trip, or offered the ability to set a budget based on flight prices from one's home airport, getting everyone to agree to go away in the first place would probably take less convincing. (Kayak currently allows for the latter with a different tool, called Kayak Explore.)
A Kayak spokesperson told Mic that this is the first iteration of Trip Huddle, and the brand plans to evolve it with features like a built-in booking function. We're down for anything that makes planning a bachelorette party a little less hellish.