Mic to launch correspondent-led Publisher Stories on Snapchat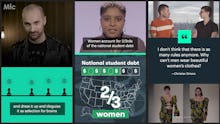 Digital media company to bring its in-depth, visual journalism to Snapchat's Discover page, offering news and perspectives that fuel conversations on our changing world.
Mic, the leading digital news company for society's Changemakers, today announced that it will launch on Snapchat's Discover page with in-depth segments covering the most topical news of the day. New editions of Mic's Publisher Story will be available weekdays beginning Monday, June 11, at 6 a.m. Eastern to Snapchatters worldwide. Editions will be hosted by Mic correspondents, including Jack Smith IV, Chantel Simpson, Aaron Morrison, Evan Ross Katz and more.
Mic's Publisher Story on Snapchat will deliver a diverse range of interesting news and human interest stories aligned to Mic's core coverage beats. Editions will put a spotlight on Changemakers: people doing meaningful things to push the conversation forward. The team will create engaging mixed-media narratives that combine audio, video, animation and illustration and are reflective of the way Snapchatters communicate.
"It's great to be joining Snap's Discover platform with Mic's new daily edition, bringing Mic's lens on socially conscious, identity-driven change to our audiences on mobile. These news segments will deliver a smart take on the social, political and cultural news of the moment straight from our newsroom and off of our daily reporting," said Cory Haik, publisher at Mic. "This kind of storytelling is Mic's expertise: correspondent-led, built for social, mobile consumption and native to the Snapchat platform."
Editions will have a heavy emphasis on politics and culture. Topics include:
— Politics: profiling people most impacted by policy and those working to enact change
Previously released editions will be available using Snapchat's Search feature.
Mic attracts over 40 million unique viewers each month, per Nielsen DCR. Mic's stories demonstrate an ability to connect with and compel younger news consumers, reaching over a quarter of people ages 21 to 34 in the U.S.