Kathy Griffin on that Trump photo shoot: "Immediately, the death threats started pouring in"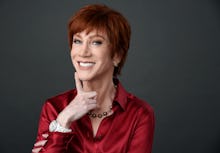 It's been a year since comedian Kathy Griffin's controversial photo shoot, which depicted her holding a bloody replica of Donald Trump's head, first went viral. To mark that anniversary — and because her name was brought up again on Wednesday in White House press secretary Sarah Huckabee Sanders' press briefing — Griffin posted a long Twitter thread on Thursday about the intention behind that photo shoot, what her past year has been like and what happens when the president tweets about you.
In the thread, Griffin said that the original inspiration for the bloodied photo, taken by photographer Tyler Shields, was Trump's 2015 campaign trail comments about then-Fox News Host Megyn Kelly, that she had "blood coming out of her eyes, blood coming out of her wherever."
Griffin said on Twitter that the photo came together hastily. "My assistant went out and bought a $10 dollar Halloween mask and ketchup... that's it. This wasn't some elaborate setup," she wrote. She added that she expected the photo would cause controversy, but that she didn't predict it would last longer than a couple of days — and she hoped the photo would "keep the spotlight shining on [Trump's] sexism."
In "hindsight," Griffin said, she would have done things differently — like used a "blowup doll instead of a mask," and controlled the release differently.
Instead, Griffin said, the photo was released without context. It was posted on TMZ and Griffin said she began receiving death threats. Late that same night, Griffin said she got a call from comedian Rosie O'Donnell, who urged her to release an apology. "After I posted the apology, things did start to calm down... until the next morning," she wrote on Twitter on Thursday. That was when Trump tweeted that Griffin "should be ashamed of herself."
That's when, Griffin said, things really intensified. "I learned that day the power of the presidency and the power of the Trump machine," she wrote. "Immediately the death threats started pouring in again but more violent and serious than the previous night."
Griffin said that after that tweet from Trump, and a separate statement from first lady Melania Trump, who seemed to question Griffin's "mental health," she hired security, her mother was being harassed and bomb threats were being called into her shows. Donald Trump Jr. gave a statement to Good Morning America in which he said Griffin "deserves everything that's coming to her," which, Griffin said, "gave permission to his dad's followers to keep going."
It was around this time that Griffin did an emotional video press conference during which she said of Trump, "he broke me." In her Twitter thread on Thursday, Griffin said that the press conference "was a total disaster. It only made things worse."
But for the past year since the photo shoot, Griffin said, she hasn't been "sitting in a state of brokenness." She's been on a world tour, which is now headed to the U.S., and said she's been writing and pitching other projects.
But Griffin said the reason she decided to share her story on Twitter on Thursday was because, as she wrote, "I feel a responsibility to keep talking about this abuse of power because one day it's not going to be a famous comic that deals with this. ... It's going to be your daughter or son, your sister or brother, who says something that the president, his family and their administration find offensive and will have their lives ruined."
Read Griffin's entire Twitter thread here.