Today in Trump's America: Trump again ratchets up trade war fears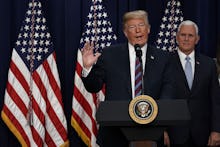 Welcome to Mic's daily read on Donald Trump's America. Want to receive this as a daily email in your inbox? Subscribe here.
Good morning from Emily Singer at Mic.
Here's what's happening in Trump's America:
• Trump heads to Texas Thursday for a series of fundraisers. Before he hits up donors in Houston and Dallas, he'll meet with families of the Santa Fe shooting victims. The school shooting left 10 dead.
About last night: Former FBI official warned Trump used a cover story to fire Comey
The New York Times published a report Wednesday night saying former acting FBI Director Andrew McCabe wrote a memo warning that Trump's purported reason for firing now-former FBI Director James Comey was a cover, and his real motivation was Russia-related.
The memo detailed a conversation McCabe had with Deputy Attorney General Rod Rosenstein in which the two discussed Comey's firing. Rosenstein had written a letter about Comey's mishandling of the investigation into Hillary Clinton's email server, which Trump used as grounds to fire Comey. But in the conversation between McCabe and Rosenstein, the latter said Trump wanted something about Russia included in the letter. McCabe took that as a sign that Trump's decision to fire Comey was actually about the Russia investigation
McCabe's memo has been handed to Mueller's team.
Trump tweeted about the McCabe memo Thursday morning, claiming that he didn't have the Russia investigation going on when he fired Comey.
"Not that it matters but I never fired James Comey because of Russia! The Corrupt Mainstream Media loves to keep pushing that narrative, but they know it is not true!" Trump tweeted.
However Trump told NBC's Lester Holt the exact opposite.
"When I decided to just do it, I said to myself, I said you know, this Russia thing with Trump and Russia is a made up story, it's an excuse by the Democrats for having lost an election that they should have won," Trump told Holt in 2017.
McCabe, for his part, was unceremoniously fired in March, days before he was slated to retire. Attorney General Jeff Sessions blamed McCabe's firing on an internal investigation in which McCabe "lacked candor." McCabe — who has been a target of Trump's ire — said his firing was politically motivated and an effort to discredit Mueller's investigation.
Today in Trump's America: Trump's trade war could send stocks tumbling
Trade war fears are coming true.
The Trump administration is set to announce Thursday that it will impose steel and aluminum tariffs on the European Union, and possibly Canada and Mexico, the New York Times reported.
The Trump administration gave all three entities temporary exemptions from the tariffs, but those exemptions are set to expire at midnight Thursday.
The Trump administration hoped putting tariffs on the EU, Canada and Mexico would bring the countries to the negotiating table on trade agreements. The tariffs are actually having the opposite effect, though, with the EU, Canada and Mexico all planning to impose retaliatory tariffs that could cause pain for American companies and consumers, according to the New York Times' report.
"Hopefully, we will be able to have a positive agenda with the U.S. side, with no tariffs or quotas," European trade commissioner Cecilia Malmstrom told the European Parliament Tuesday, according to the New York Times. "Realistically, however, we do not think we can hope for that."
And the rest…
Medicaid expansion: Virginia became the 33rd state to expand Medicaid, ending a years-long battle in the state to take advantage of an Affordable Care Act provision that gives states funding to provide health care to more low-income residents. The expansion comes after Democrats narrowed the GOP majorities in the state last year and kept control of the gubernatorial seat. The expansion will give health care access to roughly 400,000 low-income Virginians. Medicaid expansion in other states could be a key selling point for Democrats in the 2018 midterm elections.
Kim Kardashian West: The reality TV star and business mogul met with Trump at the White House in her quest to have Alice Marie Johnson pardoned. Johnson has served 21 years in prison for a first-time, nonviolent drug offense. "I've been fighting very hard and am willing to do what it takes to fight for what's right," Kardashian West told Mic before the meeting. Trump tweeted a photo of himself with Kardashian West in the Oval Office after their sit-down with the caption, "Great meeting with @KimKardashian today, talked about prison reform and sentencing."
Endorsement: Trump endorsed Rep. Dan Donovan — a GOP congressman from Staten Island who is facing a tough primary against former Rep. Michael Grimm, the GOP lawmaker who resigned in 2014 after pleading guilty to tax fraud. In his endorsement, Trump said Donovan voted for the GOP tax law; however, Donovan did not. Looks like someone at the White House didn't do their research.
Melania mystery: First lady Melania Trump hasn't been seen for weeks, leading to speculation about whether or not she is living at the White House. In an effort to clear up the rumors, Melania tweeted she is, indeed, at the White House and doing work "on behalf of children & the American people!" The tweet, which included an attack on the media and signature Trumpian exclamation points, set off speculation that it may not have been authored by the first lady.