Apple may be saving your browser history longer than you think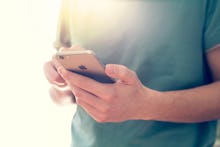 Apple CEO Tim Cook once said he wouldn't ever be caught up in the user privacy scandal Facebook finds itself in right now. Turns out, the cloud is tricky.
Apple recently made its data download feature available in compliance with the sweeping European privacy bill, the General Data Protection Regulation, or GDPR. Similar to what happened with Facebook and Google, it was only a matter of time before an Apple user going through their data package found something unexpected.
Denis Bosnic looked through his Apple data download and tweeted his findings: a log of his Safari browsing history going back four years, despite setting his browser to purge history after a week, Bosnic told Mic via direct message.
According to Bosnic, his data package contains over 5,000 visited URLs — containing info on where he banks to his searches of "shirtless celebrity photos" — all over the course of those four years.
"I have deleted my browsing history many times over the last four years," Bosnic said. It's possible the iCloud Tabs feature is the reason Apple has held onto so many of Bosnic's links.
Safari tabs are synced over Apple's cloud. Closing the tab on the device where that webpage was opened will remove it from your tab list across devices, but a record of it still may live on in Apple's servers.
Bosnic, a photographer based in Seoul, also noticed metadata about emails within the data package. "It seems that Apple has a log of all my sent emails from 2010 until today, containing email addresses, time stamps etc." Bosnic, who uses the default Mail app, said this was the case for both his Apple and Gmail accounts.
We've contacted Apple for more information on this matter and will update this story with more info if we hear back.
Here's how you can check your accounts.
How to see if you have iCloud Tabs turned on
On iOS 11 devices, head to the Settings app and tap on your name and then iCloud. The slider next to the Safari option will determine if your browser tabs are synced across devices. Switch it on to sync tabs and off to keep your browser windows on that device only.
On Mac computers, open the System Preferences app and click on iCloud. If the box next to Safari is checked, you'll see your tabs appear on other devices. Uncheck it to turn this feature off.
When can we expect a time limit to come to iCloud Tab history?
As Snapchat eagerly reminds us, data with an expiration date can be beneficial for users. An extensive log of websites visited years ago, in the wrong hands, can offer hackers valuable information.
Similar to Safari's local settings on the desktop, Apple could give users options when it comes to the length of time it stores browser history in the cloud — a feature that would line up with the reputation for privacy that Apple has cultivated. With the company's WWDC keynote event on June 4, we could see Apple offer more features to better look out for all internet explorers.