Kim Kardashian West wears controversial designer to her meeting with Trump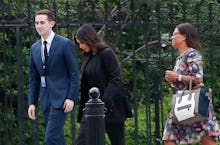 A sentence we never thought we'd write: Kim Kardashian West visited President Donald Trump at the White House on Wednesday to talk prison reform — specifically the case of Alice Marie Johnson, a great-grandmother who has served over 21 years in federal prison for a first-time, nonviolent drug offense.
What do you think Kardashian West would wear to a meeting at the White House? Certainly not her signature spandex or latex. Certainly not anything with her favored low-cut silhouette.
Kardashian West dressed for the occasion with an oversized black suit, a la Rihanna meeting with Emmanuel Macron, the president of France, from the label Vetements. For a bit of a Kardashian West kick, her shoes were fluorescent yellow Perspex heels, rumored to be from her husband's label Yeezy.
At first glance, the outfit wasn't too shocking, but let's reflect on the designer Kardashian West chose. For a policy meeting, the label is not the most controversial choice (that would be Dolce & Gabbana, a Melania Trump favorite that continues to piss off the internet) but it's not without its own set of controversies.
Vetements' is the brand behind those $1,000 hoodies from 2016. The designer behind Vetements, Demna Gvasalia, has been accused of racist model castings several times, sending only white models down his runways for Vetements and Balenciaga, for which he's serving as creative director.
Asked about his all-white model casts in 2016, Gvasalia mentioned Trump himself.
"Well, I thought at a time when Donald Trump might be a president of the United States that I, a clothes maker, have to make political statement about ethnic diversity is funny," Gvasalia told the Telegraph.
"Our criteria for choosing models was purely based on the idea of diversity of character. ... We don't even have that thing to think we have to be politically correct. I guess the criticism is justified but from my point of view it was the attitude of those girls that was important for me not the shade of their skin or their origin."
The brand is also reportedly in financial trouble right now.
In a meeting like this, Kardashian West knows well the level of scrutiny laid upon her, and her clothing. For a meeting that ultimately boiled down to an unbelievable photo op, her clothes could have been used to send a sly political signal all her own. Imagine if she had worn someone like Tom Ford, who's repeatedly spoken out against Trump, or Naeem Khan or Diane von Furstenberg, both immigrant designers who have spoken out against Trump's immigration policies or Kerby Jean-Raymond of Pyer Moss, a designer who's been outspoken about Black Lives Matter and racism within fashion and beyond.
Instead, Kardashian West likely chose that suit because it looked business appropriate yet still stylish, which is a very Melania Trump move indeed.