Trump pardons Dinesh D'Souza, conservative agitator who pleaded guilty to campaign finance fraud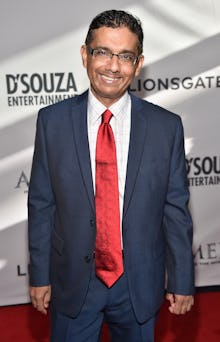 President Donald Trump announced Thursday he will pardon Dinesh D'Souza, the conservative filmmaker who pleaded guilty in 2014 to violating campaign finance law by creating an illegal straw donor scheme to skirt contribution limits.
"Will be giving a Full Pardon to Dinesh D'Souza today," Trump tweeted. "He was treated very unfairly by our government!"
Trump's pardon of D'Souza, who co-directed the 2016 political documentary Hillary's America: The Secret History of the Democratic Party, comes out of the blue. D'Souza never served prison time. Instead, he was sentenced to five years of probation and eight months in a "community confinement center" and ordered to pay a $30,000 fine.
Experts say Trump's pardon instead looks like a message to Michael Cohen, who is also being investigated for campaign finance fraud.
"Dinesh D'Souza was convicted of one of the crimes Michael Cohen is under investigation for, campaign finance fraud," Joyce Vance, a former U.S. attorney, tweeted. "Impossible to view this as anything other than a 'stay strong' message from Trump to Cohen, especially given the timing."
This is not the first time experts say Trump's pardons appear to be symbolic warning shots at special counsel Robert Mueller's investigation. In April, Trump pardoned I. Lewis "Scooter" Libby, an adviser to former Vice President Dick Cheney who was convicted of lying to the FBI and obstructing justice. Trump also pardoned former Maricopa County Sheriff Joe Arpaio in August, who was convicted of criminal contempt after he refused a court order to stop racially profiling Latino people.
D'Souza is a major Trump supporter and has created a number of right-wing propaganda films that help generate conservative conspiracy theories. Hillary's America was an effort to paint liberals and Democrats as Nazis and fascists, and it included a number of out-of-context quotes and facts.
D'Souza also often posted racist comments about former President Barack Obama, and as a student at Dartmouth University, he published an article titled "Dis Sho' Ain't No Jive, Bro" which was written in ebonics.
In a book titled The End of Racism: Finding Values in an Age of Technoaffluence, D'Souza said slavery wasn't a racist institution and segregation "represented a compromise on the part of the Southern ruling elite seeking, in part, to protect blacks." The emphasis was D'Souza's.