Democrats worry that California's "jungle" primary system could hurt efforts to flip Congress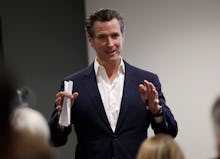 Over the past few weeks, national Democrats have openly fretted about how California's "jungle" primary system was causing major headaches in the battle to reclaim Congress. A wave of progressive candidates running in the state's non-partisan primary system are at risk splitting the vote among themselves and keeping Democrats off ballots altogether in several congressional districts.
And now California's unique primary system is causing even more angst as the top Democratic gubernatorial candidate works to push his advantage in a way that many claim will further hurt Democrats' chances of winning new seats in Congress.
Democratic Lt. Gov. Gavin Newsom, the leading candidate to replace Jerry Brown as governor of California, is being accused by critics of supporting one of his Republican opponents in order to increase his odds of prevailing in the general election.
At Thursday night's gubernatorial debate hosted by Meet the Press moderator Chuck Todd, Newsom was asked about whether he was hoping a Republican would advance to the runoff with him and responded candidly.
"You know my position, Chuck,'' Newsom said. "A Republican would be ideal."
This latest tactic is just one of many 12 dimensional chess moves that have been spurred by the California primary system — a system where Democrats, Republicans and third party candidates all run against each other in the same primary race, with the top two vote-getters advancing to the general election race regardless of their political affiliation.
There are currently 27 candidates from a wide array of political parties running against each other in the governor's primary. Among the top contenders, Newsom is currently enjoying a healthy polling lead and is all but certain to advance to the November runoff.
At issue is the question of who will run against Newsom. Currently, San Diego Republican businessman John Cox and former Democratic Los Angeles Mayor Antonio Villaraigosa are locked in a tight battle for second place, with several other Democratic and Republican candidates behind them splitting the remaining vote. Because of California's deeply Democratic politics, many believe that a Republican like Cox would be a much less formidable opponent for Newsom than another Democrat like Villaraigosa.
This is probably why an independent campaign funded by labor groups who support Newsom has recently begun attempting a bold strategy — running an "attack" ad against Cox that plays up his conservative bona fides and support for President Donald Trump.
Critics allege that the real intent behind the ad is to promote Cox among conservative primary voters, and consolidate Republican support behind Cox in order to keep Villaraigosa from advancing to the runnoff. Villaraigosa's campaign has filed a complaint with the state's Fair Political Practices Commission alleging that the ad is violating campaign rules by not being listed as an ad supporting Cox.
"Newsom is doing what any candidate in the winning position would do," said Gil Duran, a California based Democratic strategist. "He's making the smartest move. It's the height of strategy to pick one's own opponent and proceed to swift victory."
Complicating matters even further, Cox has filed his own similar complaint against a group supporting Villaraigosa, alleging that they have been sending mailers in support of Cox's Republican opponent, Assemblyman Travis Allen, in order to take conservative votes away from Cox in the race for second place.
Trying to hand-pick a political opponent is not unheard of American politics. In 2012, Democratic Missouri Sen. Claire McCaskill used a similar maneuver when she ran ads that effectively bolstered the chances that then-GOP Rep. Todd Akin would win the Republican primary. Akin went on to famously self-immolate during his campaign, with statements about "legitimate rape."
But because of California's primary system, the Newsom supporters' gambit has drawn a whole new kind of criticism from California Democrats who say that, by working to keep a Republican at the top of the statewide ticket, they will end up boosting GOP turnout in tighter down-ballot congressional races.
Democrats are currently targeting seven different California congressional districts as part of their strategy to try and reclaim the House in 2018. Critics say that by supporting efforts to put a Republican in the governor's race, Newsom is working against his party's broader goals.
But Newsom supporters say that those arguments are just a last-ditch effort to try and boost the more moderate Villiaraigosa's chances and keep the more progressive Newsom from becoming governor.
"I don't buy the cockamamie theory that a prolonged civil war between Democrats is a good thing," Duran said. "The job of a gubernatorial candidate is to win the election and govern the state, not rig primaries to drive voter turnout for congressional races. There are plenty of ways to excite the Democratic base in a year when the entire fate of the nation hangs in the balance. Newsom can travel the state on a voter turnout crusade to highlight the differences between a progressive Democrat like himself and a Trump-endorsed Republican like John Cox. And I'm sure he's eager to do so."
Perhaps the greatest threat to California's Democratic congressional hopefuls is not the governor's race, but yet another unintended consequence of the state's jungle primary system.
Currently, three of the seven congressional races targeted by national Democrats are facing problems with the unprecedented number of Democrats running in the primary. In the races to replace GOP Reps. Dana Rohrabacher, Ed Royce and Darrell Issa, a large number of Democrats have entered the primary field and created a risk that they will split the Democratic vote between them and allow two Republicans to take both of the top two spots for the general election.
The fear that candidates might get boxed out has prompted national Democrats to weigh in on the primary races to try and consolidate support behind one Democratic candidate in each race — a strategy seen as controversial among members of the party base who believe the national party should not weigh in on the early primary process.