At the world's first fully accessible water park, every guest can swing, splash and play in sand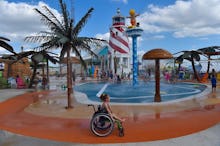 The average temperature in San Antonio during the summer teeters above 90 degrees. When the sun is out, there are few things more refreshing than a day splashing around at a water park. About a year ago, Morgan's Inspiration Island, the world's first fully accessible water park, made that dream a possibility for all.
Like its sister park Morgan's Wonderland — a wheelchair-accessible theme park in San Antonio that opened in 2010 — Morgan's Inspiration Island admits anyone with a special need free of charge.
"A lot of families with special needs individuals have pretty heavy budgetary outlays for doctors, therapists, medication and so on," Morgan's Wonderland communications director Bob McCullough said. "We're not just trying to be barrier-free in a physical sense but want to try to eliminate economic barriers as well." Both parks are nonprofit organizations that rely on volunteers and donations to keep the rides going.
All attractions, including a river boat ride, splash pads with bubbling geysers and a warmed water splash pad for people who have difficulties tolerating cooler water, are open for everyone.
In line with its barrier-free mission, Inspiration Island has amenities that aren't typical for a waterpark. A waterproof wheelchair called the PneuChair, which is powered by compressed air instead of electricity, and was designed by the Human Engineering Research Labs at the University of Pittsburgh, is one standout example. With the chair, people with mobility disabilities can experience the joy of splashing around in a water park with the chair. Guests can enter the park in their own wheelchair and transfer into the PneuChair (for no extra cost) when they're ready to get wet.
The parks are also equipped with special lifts to help people out of their wheelchairs. "You're trying to anticipate every need that a special needs individual might have," McCullough said.
Both Morgan's Wonderland and Inspiration Island are meant to appeal to both people with and without a disability, McCullough said, because the guiding principle behind the barrier-free attractions is inclusion. Morgan's was first conceived by Gordon Hartman, who was inspired by his daughter Morgan, who has physical and cognitive challenges. The parks are designed to be a haven for people with a disability as well as their families, friends, caregivers and the general public.
Morgan's makes seemingly elementary activities — ones that guests without a disability may take for granted — possible for all. "Some of the things are so very simple," McCullough said, explaining that the parks' specialized swings have been manufactured with a lockdown function so wheelchairs can be secured safely.
"A lot of people in wheelchairs have never had the simple pleasure of swinging before," McCullough said. "It's amazing to see people enjoy that for the very first time."