Movement Must-Reads: Medical cannabis at HBCUs, #CoffeeWhileBlack, making the wrong moves in the NFL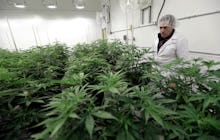 Starbucks closed to teach its employees not to be racist, the NFL opted to punish players for not standing for the national anthem instead of urging police to stop killing black people and Southern University took a big leap for historically black colleges and universities trying to muscle into the growing nationwide legal cannabis industry.
A lot to cover. Read on for more.
From Mic:
Aaron Morrison on the #CoffeeWhileBlack movement, a push to support black-owned coffee shops amid nationwide closures of Starbucks stores for anti-racial bias training.
A pair of pieces from Natelegé Whaley: one detailing the ins and outs of the anti-bias training Starbucks employees received Tuesday, when the company closed 8,000 U.S. stores. And the second on recent developments at Southern University and A&M College in Baton Rouge, Louisiana, which recently signed a deal to become the first historically black college to house a medical marijuana research and cultivation facility.
And Chauncey Alcorn's coverage of the NFL's decision to punish players for not standing during the national anthem before games: first, on how that move might be reinvigorating the very protest movement it's trying to quell; and second, on the response to the decision from Nate Boyer, the military veteran who convinced Colin Kaepernick that kneeling was the most respectful way to protest the anthem.
From elsewhere:
This pretty horrifying profile of Donald Trump speechwriter and policy adviser Stephen Miller for the Atlantic.
This sad story on local efforts to preserve what's left of Leimert Park, one of Los Angeles' last iconic black enclaves, for the Los Angeles Times.
This illuminating op-ed at the New York Times clarifying the mass confusion surrounding the viral claim that the federal government has "lost" 1,500 unaccompanied children who immigrated to the United States, mostly from Central America, written by two attorneys with the New York Civil Liberties Union.
And another piece at the Atlantic on the real scope of the destruction caused by Hurricane Maria in Puerto Rico in September, including its vastly undercounted death toll.
That's all for now. Until next week.