What Melania Trump wore her 71st week as first lady — when she probably, maybe tweeted that tweet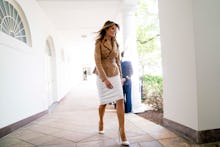 It's now been more than 20 days since the first lady appeared publicly — with her last public appearance on May 10 — and things are getting weird.
"I see the media is working overtime speculating where I am & what I'm doing," Melania Trump's Twitter account tweeted out Wednesday. "Rest assured, I'm here at the White House w my family, feeling great, & working hard on behalf of children & the American people!"
Sounds like the first lady of the United States, right? No? Yes? That's on you to decide.
Last week, a reporter shouted a question about Trump's whereabouts to her husband as he boarded Marine One on the White House lawn. Then, as reported by the Washington Post, "President Trump responded by pointing to a window in the White House residence, and said: 'She's doing great. She's looking at us right there.'"
But then reporters turned to the spot he was pointing and saw no sign of her.
This week, we got that tweet, which has a tone unlike any other FLOTUS tweet. Is this normal? Not exactly. As Katherine Jellison, an Ohio University professor who specializes in the history of first ladies, told Politico. "It's unusual over the course of the past 50 years for a first lady not to be in public view, and when she is out of the spotlight for a prolonged period, not to tell people what's going on."
Of course, there's no policy or rule for how a first lady should operate. We will offer you a beacon of hope though: One reporter from CNBC did report seeing Trump at the White House this past week, so perhaps everything really is totally fine.
Then again, that's just one person. On Friday, news broke that Trump would not be spending the weekend with her husband at Camp David either.
Interpret that as you wish.
You can read previous recaps of what Melania Trump wore here.