These faith-based communities are building out mental health programs to serve their congregations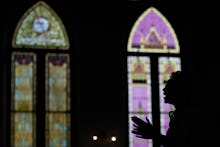 In Anthony Evans' forthcoming book Unexpected Places, the gospel singer describes an experience early in his career where he was working endlessly, unable to express his true feelings, and how he went through a bout of depression while touring with a Christian vocal ensemble.
"If you talked about struggle, it was something vague and fully conquered through prayer," Evans wrote, referring to discussions about mental health in the church. "Specific sins were not discussed. Nobody spoke of sexual struggle or depression or substance abuse. There was no safe place to admit you sometimes struggled even to believe."
That was years ago. Now, Evans — who is the son of Dallas-based pastor Dr. Tony Evans — is a renowned recording artist and worship leader at one of the nation's largest churches. Set to release in August, Unexpected Places details how his experiences growing up in the spotlight as a preacher's kid, finding his path as an artist and living under the pressure of a call to ministry began to take a toll on his health.
"My internal well-being would just keep going down," Evans said. "There was a pit that I kept sinking into. It's hard to pray in those moments. So I was not only leaning on my faith, but also on the wisdom of people around me who were like, 'Anthony, I think you need to go see someone and talk about it.' … My journey was identifying it, getting counseling and readjusting my workload."
Evans is one of many people of faith who have dealt with depression, anxiety and self-doubt. In 2013, the Guardian reported that half of evangelicals still believed that prayer could cure mental illness. Despite those numbers, churches across the country have made strides not only to talk openly about mental health, but also to extend resources to counseling centers and programs that help address the needs of their congregants.
At Oak Cliff Bible Fellowship, where Evans is the worship leader, members can see counselors and psychiatrists, or participate in the Free at Last support groups that they facilitate for anyone who has depression, anxiety and abuse. For years, Oak Cliff Bible Fellowship offered informal mental health resources, and it founded the Counseling Center 14 years ago when it began to recognize the expanded need.
"As the church grew, [leadership] realized that volunteers couldn't handle it," Rev. Bobby Gibson, who runs the center, said in an interview. "There were people in the church who were licensed counselors and social workers, and I believe Dr. Evans just saw that with the demand it was good to have someone on staff that oversaw the counseling area."
In May, which is Mental Health Month, advocates across the nation have mobilized and been outspoken about their personal experiences, the experiences of their loved ones and the help that is available.
New York City's first lady Chirlane McCray has been particularly vocal about raising awareness and engaging the faith community in the discussion about mental health. She's partnering with churches from all over the country to bring awareness, including First Corinthian Baptist Church in Harlem. There, Pastor Kyndra Frazier works with a small team in their Healing on Purpose and Evolving Center to accommodate a large number of what they call "innovators."
"We don't call them clients," she said. "We call them innovators because they get to be innovative about their own healing."
In 2017, they saw 368 people while working with a staff of one full-time clinician, one part-time clinician and two interns from Columbia School of Social Work. They offer 10 to 12 free sessions for members of First Corinthian and residents of Harlem and currently have 50 people on the waitlist.
First Corinthian will partner with McCray's initiatives Friendship Benches and ThriveNYC to continue to advance the mental and spiritual well-being of New Yorkers.
McCray and ThriveNYC are also partnering with Saddleback Church, whose pastors Rick and Kay Warren had a son who died by suicide in 2013 after living with mental illness. In an interview with McCray, whose parents and daughter live with depression, Kay Warren said, "I've lived with a low level of depression my whole life. And, in fact, I don't really know what it's like to not have just that little edge of depression. ... I come to this from a very deeply personal place and it drives me."
As a result, Saddleback has been at the forefront of talking about mental health awareness within and outside of the faith community, with an adamant mission to erase the stigma and provide hope for those living with mental illness and their families.
Earlier in May, during the annual Weekend of Faith for Mental Health, McCray encouraged clergy members to educate their churches about mental health and revealed ThriveNYC's $850 million plan to improve mental health services, which includes a virtual learning center for community-based organizations, a tool kit specifically for clergy and coaching sessions to assist them.
"This weekend is a historic push to address mental illness and addiction in our communities, without shame," McCray said to a room full of pastors and faith leaders. "For too long, silence and stigma has kept these diseases in the shadows, preventing people from getting the care and services they need to heal. We can make powerful change by recognizing that mental illness and addiction do not affect only one kind of community or one type of person. I am proud to stand with so many houses of worship and community leaders across the nation to find new ways to support one another through these shared challenges. It's time to thrive together."